If you are already a cloud user, it is very likely that you are already fully convinced about the benefits of this technology. You are not the only one, according to every market analysis cloud usage significantly rose the past years and the cloud adoption rate has never been so high.
There is a term that you are probably hearing more and more or a strategy that you have been willing to implement recently: Multicloud.
Companies' cloud journey is often very similar, they start small by purchasing cloud instances from one of the big suppliers, see the benefits and start building more and more services on the cloud. There is however a certain point in time where you feel that being tied to one provider only slows you down or costs you too much.
This is exactly where you start thinking about working with multiple cloud vendors: Welcome to the Multicloud.
First, let's start with a more formal definition: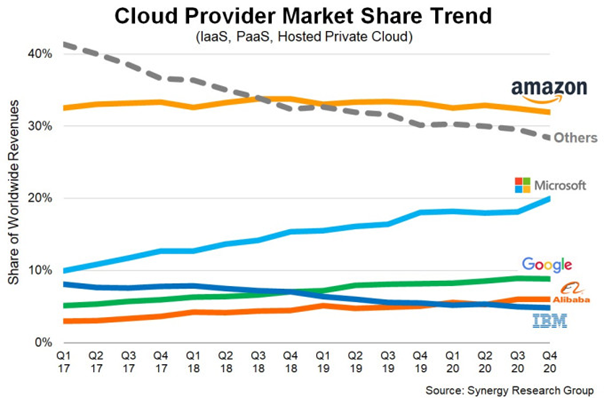 "Multicloud is the use of multiple cloud computing and storage services in a single heterogeneous architecture. This also refers to the distribution of cloud assets, software, applications, etc. across several cloud-hosting environments. With a typical multicloud architecture utilizing two or more public clouds as well as multiple private clouds, a multicloud environment aims to eliminate the reliance on any single cloud provider. It differs from hybrid cloud in that it refers to multiple cloud services rather than multiple deployment modes"
As shown in the following graph, the cloud market is mostly structured around large corporations. Smaller players however have interesting offers and, while being below the radars, can be a interesting starting point for your cloud journey.
The term multicloud describes setups that combine at least two public cloud providers, as in the following diagram.

Source : Google Cloud
A multicloud setup might also include private computing environments.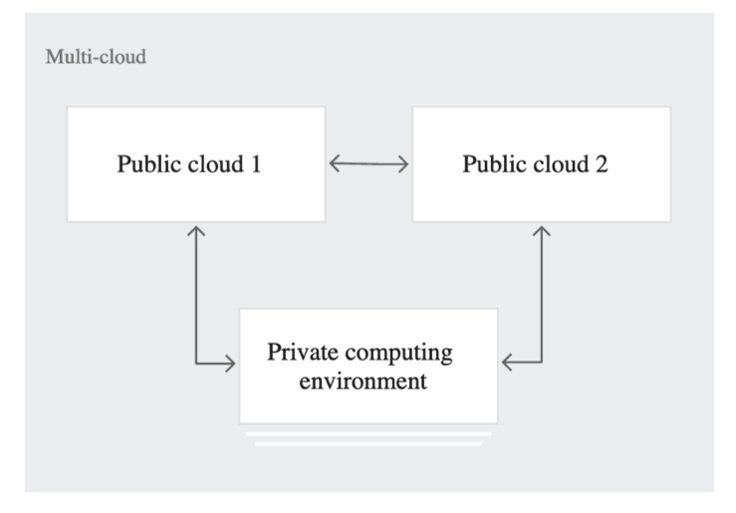 Source : Google Cloud
Is there a difference between multicloud and hybrid cloud?
Now that you have a better understanding of the concept of multicloud, you are probably wondering about another type of cloud you already heard hybrid cloud. It could seem like there is no real difference between these two terms, but you will see just after that they are quite different.
According to RedHat, multicloud refers to the presence of more than 1 cloud deployment of the same type (public or private), sourced from different vendors. Hybrid cloud refers to the presence of multiple deployment types (public or private) with some form of integration or orchestration between them.
A multicloud approach could involve 2 public cloud environments or 2 private cloud environments. A hybrid cloud approach could involve a public cloud environment and a private cloud environment with infrastructure (facilitated by application programming interfaces, middleware, or containers) facilitating workload portability.
In a recent Gartner survey of public cloud users, 81% of respondents said they are working with two or more providers.
These cloud approaches are mutually exclusive: You can't have both, simultaneously because the clouds will either be interconnected (hybrid cloud), or not (multicloud). Having multiple cloud deployments, both public and private, is becoming more common across enterprises as they seek to improve security and performance through an expanded portfolio of environments.
Why are companies going for multicloud?
According to Gartner, Multicloud computing decisions are often driven by the desire to increase agility and avoid or minimize vendor lock-in.
The decision may be driven by a variety of factors, including availability, performance, data sovereignty, regulatory requirements, and labor costs.
The benefits of new technologies enable modern applications that are, by design, created in a more modular style. They can span multiple cloud providers or consume services from multiple clouds.
Once this is implemented, companies need to ensure operational control, enterprises want to unify administration and monitoring of their IT systems. They want to standardize policies, procedures and processes and share some tools — especially those that enable cost governance and optimization — across multiple cloud providers.
In a recent analysis, Google Cloud experts investigated the numerous drivers to migrate to a multicloud setup:
Business drivers and constraints
Reducing capex or general IT spending.
Increasing flexibility and agility to respond better to changing market demands.
Improving quality and availability of service.
Improving transparency regarding costs and resource consumption.
Avoiding or reducing vendor lock-in.
Design and development drivers
Automating and accelerating application rollouts to achieve faster time to market and shorter cycle times.
Leveraging high-level APIs and services to speed up development.
Accelerating the provisioning of compute and storage resources.
Operations requirements and constraints
Ensuring consistent authentication, authorization, auditing, and policies across computing environments.
Using consistent tooling and processes to limit complexity.
Providing visibility across environments.
Architecture constraints
Dependencies between applications.
Performance and latency requirements for communication between systems.
Reliance on hardware or operating systems that might not be available in the public cloud.
Overall goals
Which workloads should be run in or migrated to each computing environment.
Which patterns to apply across multiple workloads.
Which technology and network topology to use.
A first step towards multicloud? Cloud diagrams!
In a more detailed article, we will focus on the management of your multicloud environment, here is already an introduction to the concept of multicloud diagrams.
Once your architecture becomes multicloud, it is important to have the right tools to have a global overview of the available resources, track their usage and performance as well as optimize their costs.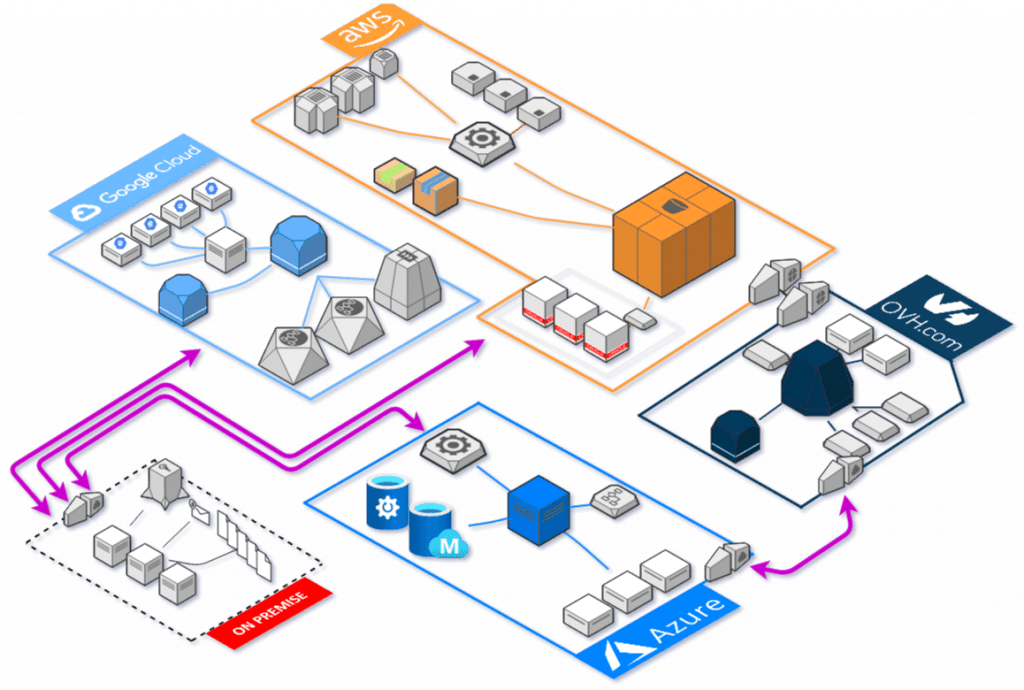 One of the long-term drawbacks of multicloud is that it requires continuous optimization efforts to ensure that you always benefit from the best service at the right time.
This is the reason why Holori is developing a cloud diagram tool. This multicloud architecture diagram will help users to:
Design their cloud infra and synchronize it with their cloud providers
Collaborate with team members on collaborative cloud diagrams
Monitor cloud usage and improperly used resources
Get real time cloud optimization recommendations from Holori's artificial intelligence algorithms
You should now have a better understanding of cloud computing and the benefits for your company. If you keep in mind that a multicloud architecture requires a close management and optimization, you should be able to get the most of your infra. And don't worry, Holori is here to make it simple.