GCP Architecture Diagram Tool
With Holori GCP architecture diagram tool, you can design, deploy, and scale your Google Cloud infrastructure visually !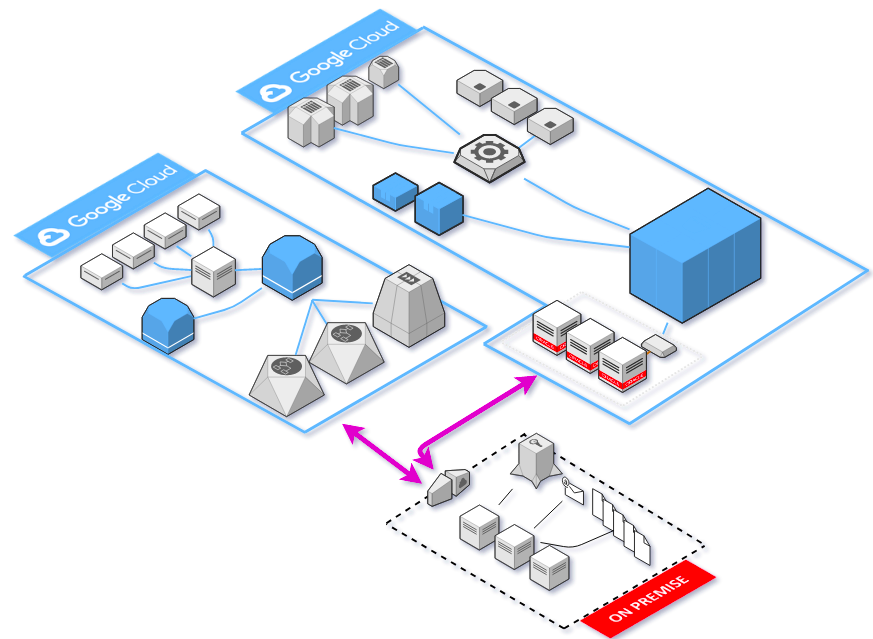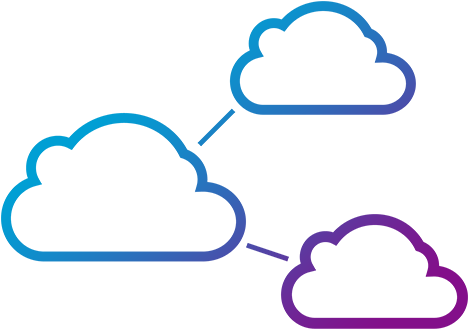 Draw and visualize Multicloud diagrams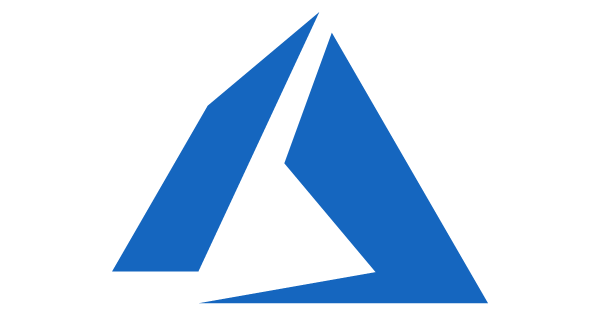 Draw and visualize Azure diagrams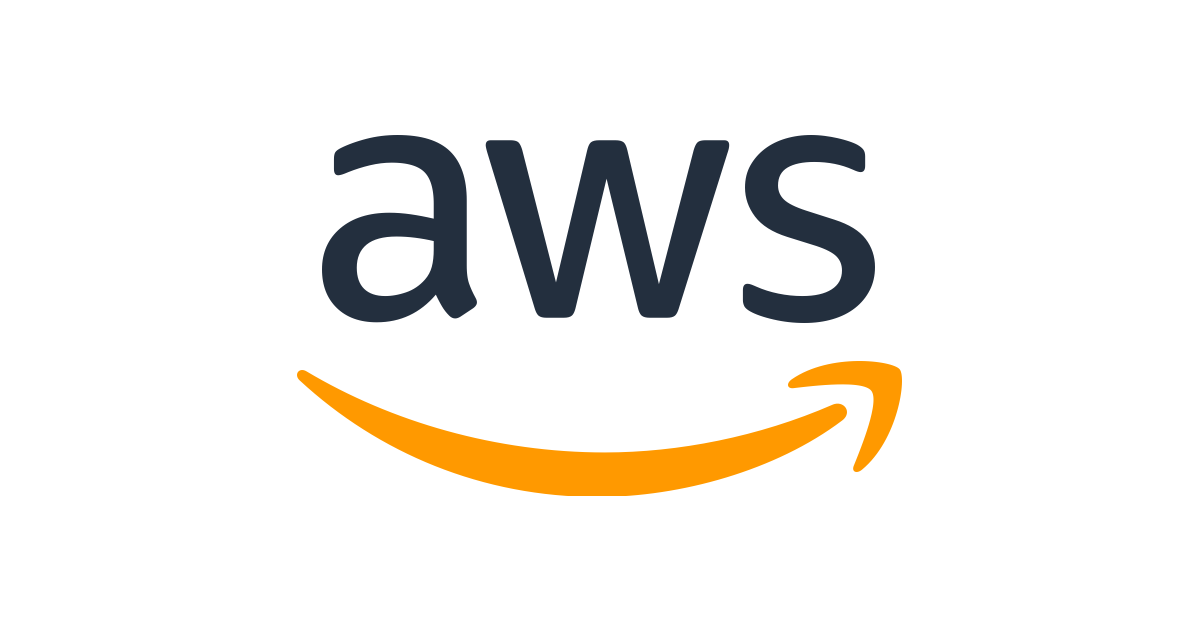 Draw and visualize AWS diagrams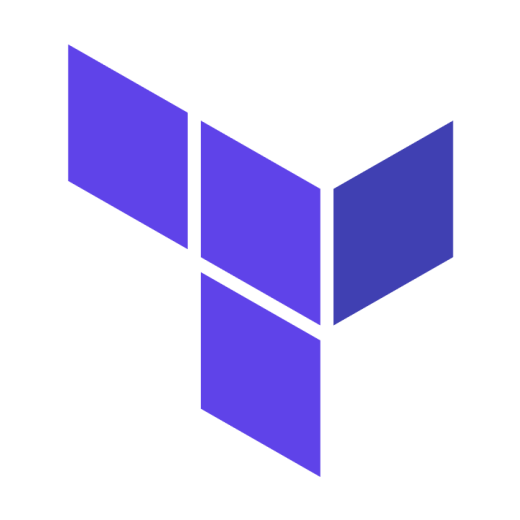 Generate Terraform Graphs
Generate Terraform graphs
Draw and visualize Mutlicloud diagrams
Draw and visualize GCP diagrams
Draw and visualize Azure diagrams
From design to deployment, you can rely on our GCP architecture diagram tool
Holori GCP architecture diagram tool is the most complete solution to design, visualize, deploy and manage your GCP infrastructure. Everything you need is at your fingertips such as Google cloud icons, templates, prices, and terraform attributes,  so you don't need to switch between multiple software.
Holori diagramming tool aims to offer a seamless and intuitive experience to deploy and run your GCP infrastructure effortlessly and at the best possible cost.
Not just another GCP architecture diagram software
According to the "state of the cloud" Flexera report, 94% of companies are multi-cloud. We at Holori believe that no companies should put all their eggs in one basket. This is why, with our architecture diagramming software, we offer the capability to design, estimate and deploy infrastructure not only for Google Cloud but for other cloud providers from large to small ones such as Azure, AWS, Linode, OVH, Scaleway… Holori diagramming tool can be your single entry point to a truly multi-cloud experience.
Estimate your GCP architecture cloud cost
Who can claim they find it easy to use the GCP pricing calculator? One of the main difficulties is to look manually for each region to find the best combination between prices and services. Of course, nobody does it because it is too time consuming. Well with the Holori GCP architecture diagram tool, you can get the estimation right when you design your architecture. As a diagram is a visual representation, it makes it clearer to understand the network cost for example. More than an estimation, Holori will find for you the best offers for your architecture within all the GCP regions, making you save a significant amount of time and money.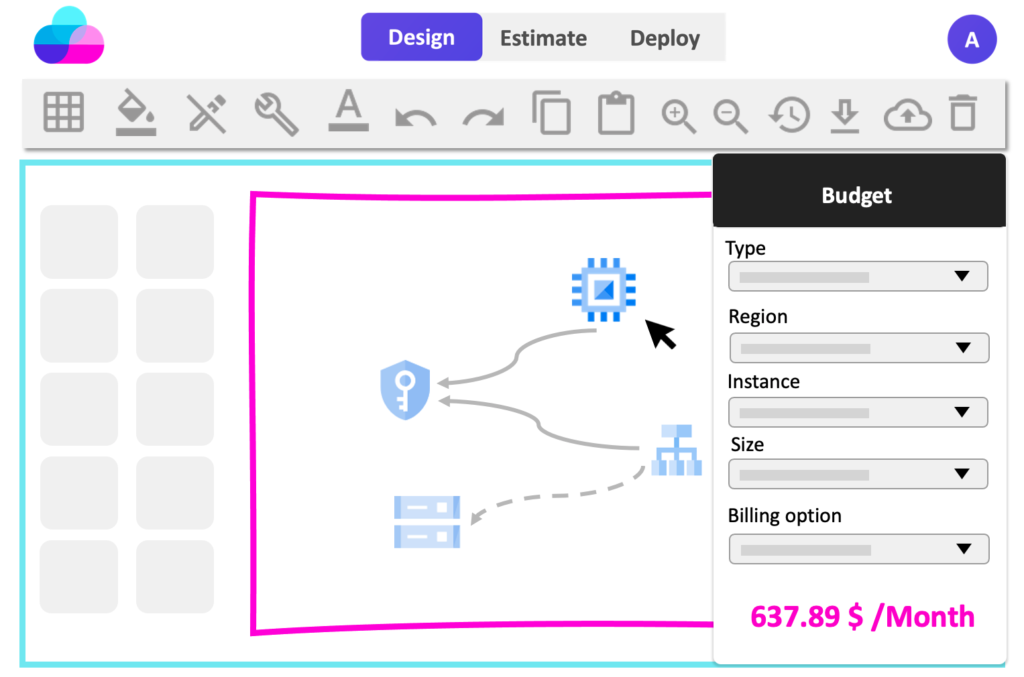 Actionable GCP architecture diagrams
Holori GCP architecture diagram software is not a simple drawing tool like Draw io, Visio or even Lucidchart. Everything you do on the diagram can have an impact on your real GCP infrastructure. Think of it like a visual GCP console where adding a virtual machine in the drawing, provision for real your infrastructure. It allows you to parameter and adjust visually your infrastructure and services. Instead of designing the architecture and then booking for the right services in the cloud console, you can use Holori and do both at once !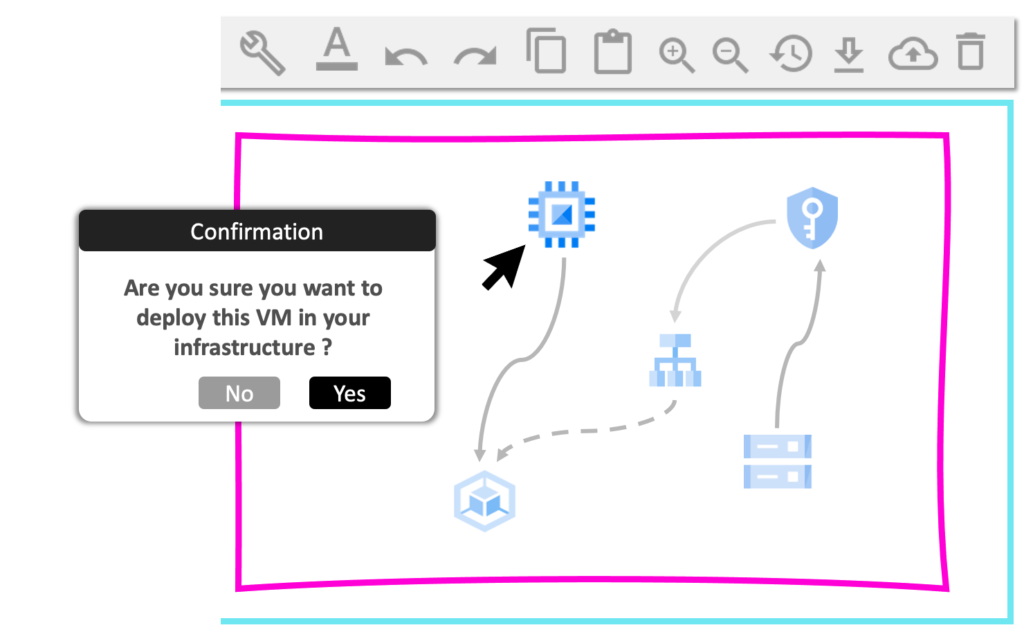 Import your Google cloud infrastructure
With the Holori GCP architecture diagram tool, you have the possibility to import your existing Google cloud projects. Holori connects through APIs to your GCP console's to import your infrastructure. This enables you to visualize your infrastructure at a glance and understand dependencies between resources, services, network routes and application components that you can't see in the GCP console. Thus, you become aware of the resources your infrastructure uses as well as the ones that are idle and unallocated. The visual representation of your GCP infrastructure may enable you to quickly identify architectural issues, structural problems or even security breaches and find a way to solve them. Last but not least, Holori gives you a precise starting point to iterate with new ideas from your existing architecture.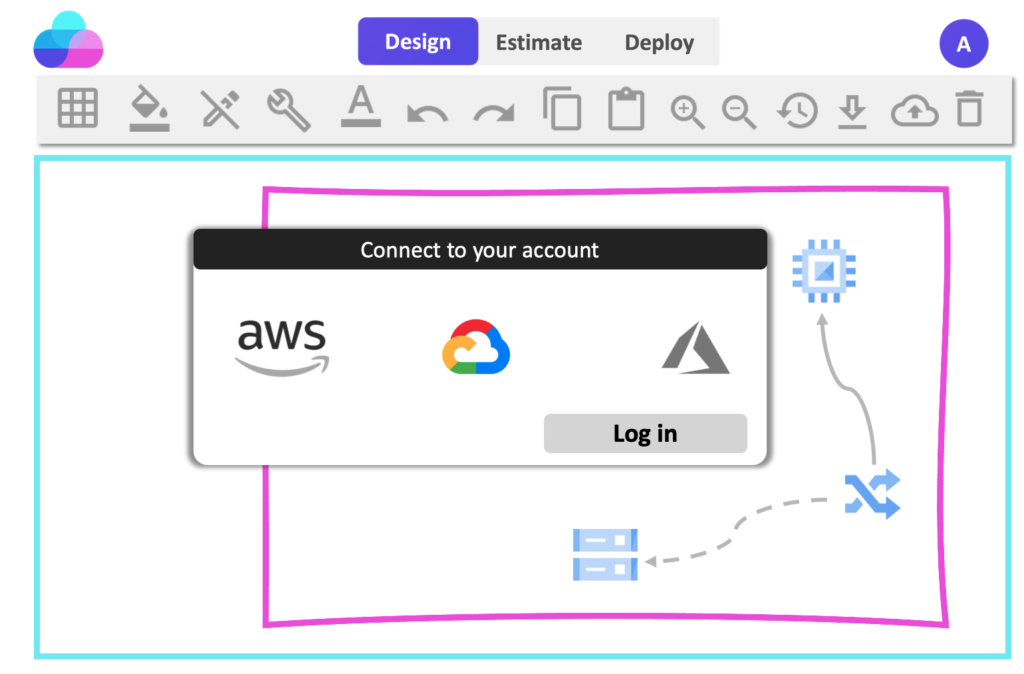 Already convinced by our GCP architecture diagram software ?
Deploy first time right with Holori GCP Architecture Diagram tool
Making the right choice of cloud provider for a new project is very important. Indeed, once you have deployed your infrastructure on a cloud provider, you will struggle to move it to another cloud provider and sometime the RoI is not worth the hassle. At Holori, we have noticed that there are significant price differences between cloud providers for equivalent services. Of course, without the right tools to identify which provider offer the best deal for the new project, it is nearly impossible to find it. It's similar to the travel industry where nobody was challenging the prices of the local Airlines until flight comparators appeared. Well, Holori GCP architecture diagram tool is similar to Skyscanner, as we list more than 50 000 offers from major cloud providers. We provide recommendations on which cloud providers, you will get the best deal to host your new project. This way we can reduce your cloud costs by as much as 70%!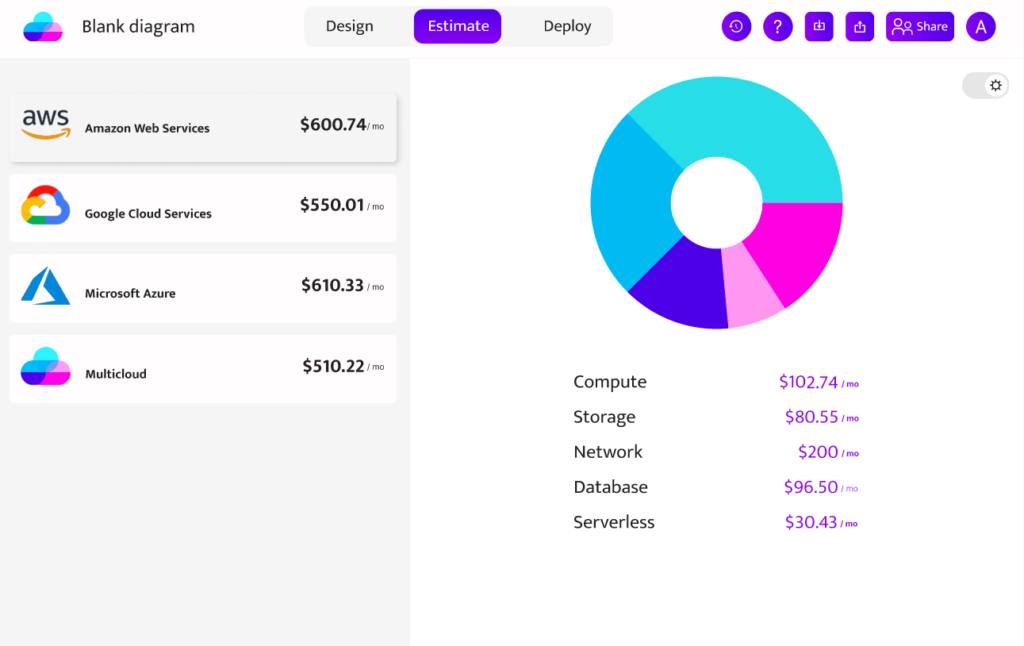 Automatic Infrastructure as Code
Infrastructure as code became the standard for provisioning infrastructure as it is more scalable than going manually provisioning resources on the GCP console. However, it requires DevOps to learn terraform attributes for every cloud provider and because it is not possible, eventually DevOps need to dig into the Terraform documentation.
With the Holori GCP architecture diagram tool, we provide all the attributes for every resource you select. After defining all the attributes in the app, you can export the terraform script, fine-tune it and provision your whole infrastructure!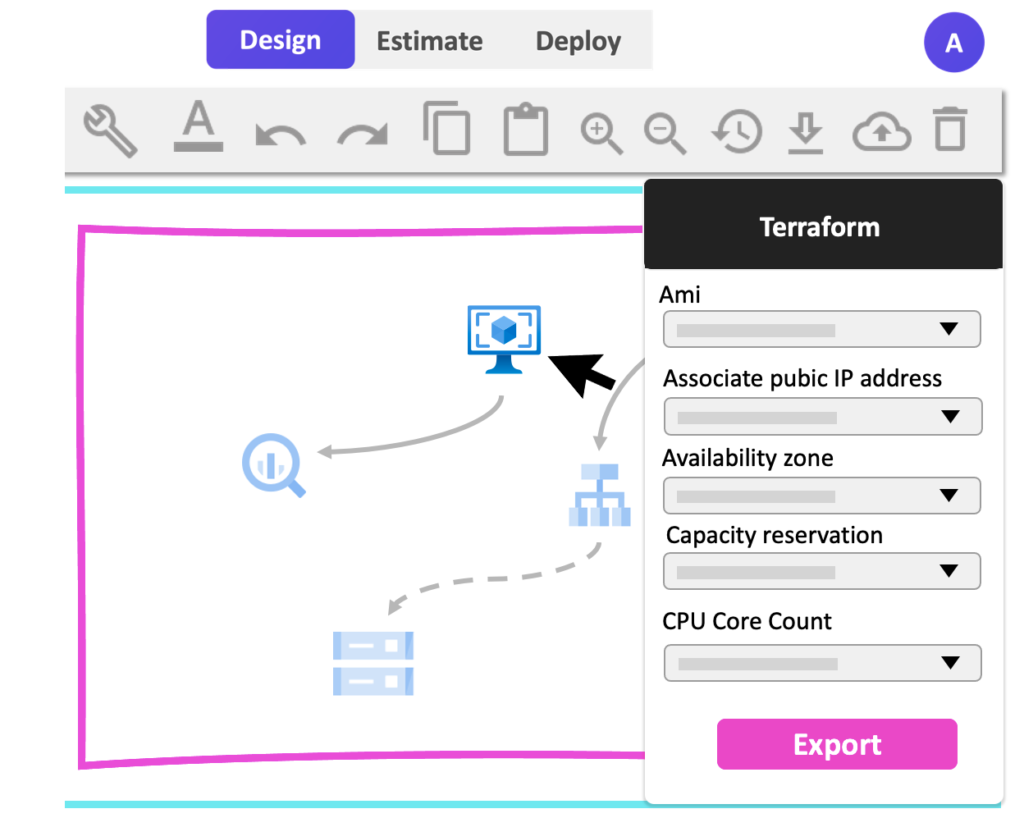 Connect seamlessly with your full team
Holori GCP architecture diagram tool is a browser-based app that allows you to draw and share your architecture diagrams within your team. Team members can add notes and labels to pinpoint information for any component in the diagram. Holori collaboration tool helps IT teams make better and faster decisions. However, the tool is not just limited to technical teams; it can also be useful to communicate with non-technical team members such as your project manager or procurement department that needs cost estimation or to keep an eye on the status of the project.
No more PhD to manage cloud infrastructure
Each cloud platform has specific features and complexity in different ways. It takes extreme time, effort and money to learn each of them and no DevOps can master them all.
This is why, with Holori GCP architecture diagramming tool, you can create the architecture with the services of the provider you know the most and Holori will automatically convert it to another cloud provider architecture. Let's say you are familiar with AWS, but you want to try out GCP :  then you can draw your architecture for AWS and Holori will make the switch to GCP seamlessly.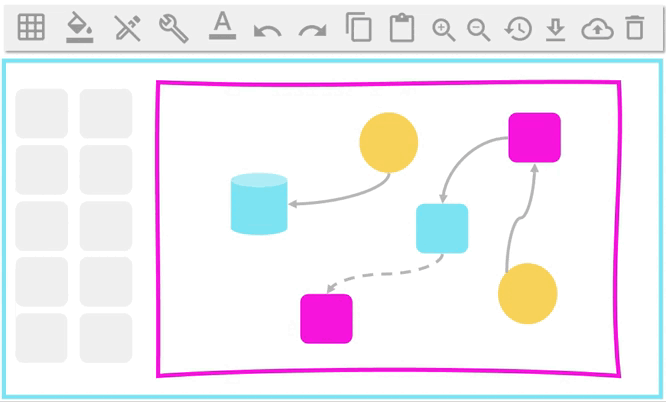 Immediate documentation for your GCP architecture diagram
For each component in the GCP architecture diagram, you can define attributes, labels and tags. Once you are done designing the diagram, a new document aggregating all the additional information you have filled will be generated. You can download it in Word or PDF. Whenever you perform a modification on the GCP diagram, new documentation will be available for download. Stop wasting time writing your documentation from scratch and use Holori auto-generated documentation!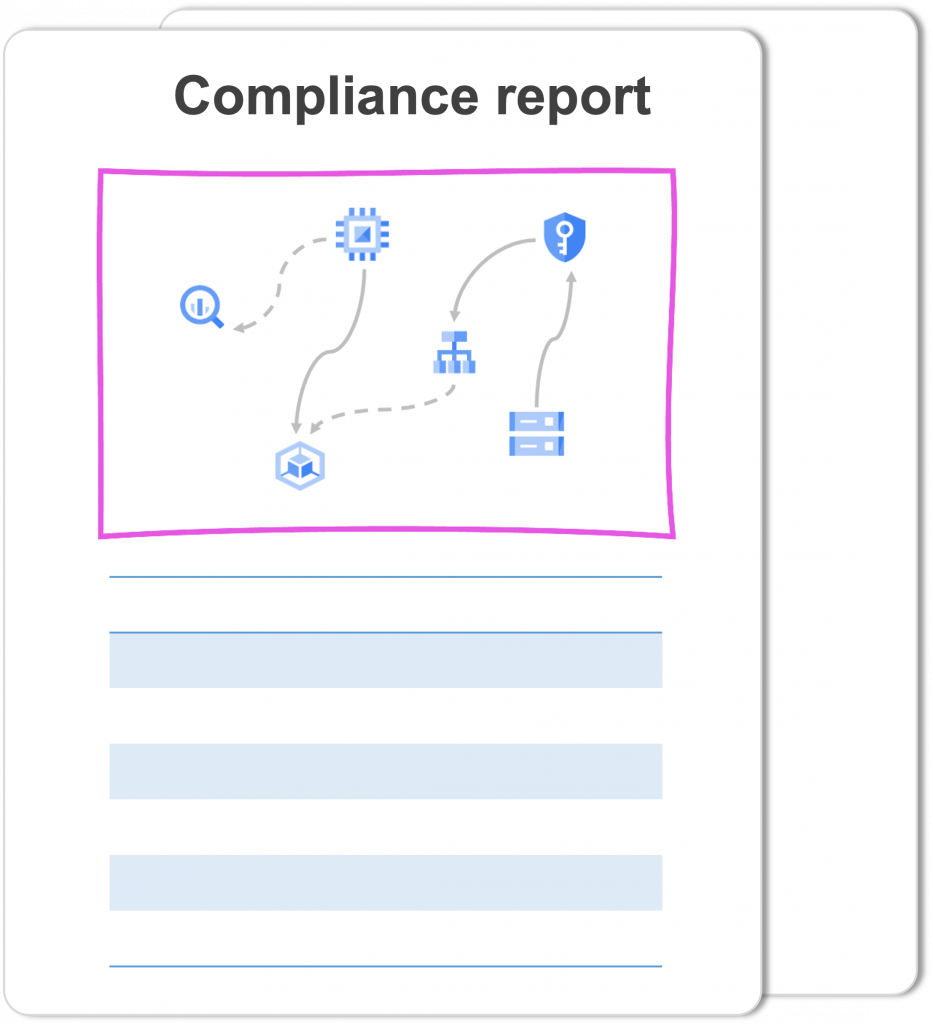 Kickstart faster with our GCP architecture templates
If you don't have a specific Template in mind then you can use the template library of Holori which contains a collection of the best templates that can be used to design GCP cloud diagrams. In the library, you can find various models that suit your needs such as Web App architecture, Machine learning or even Microservice architecture.  This template library is designed for GCP users to help them get started quickly with GCP architecture diagrams.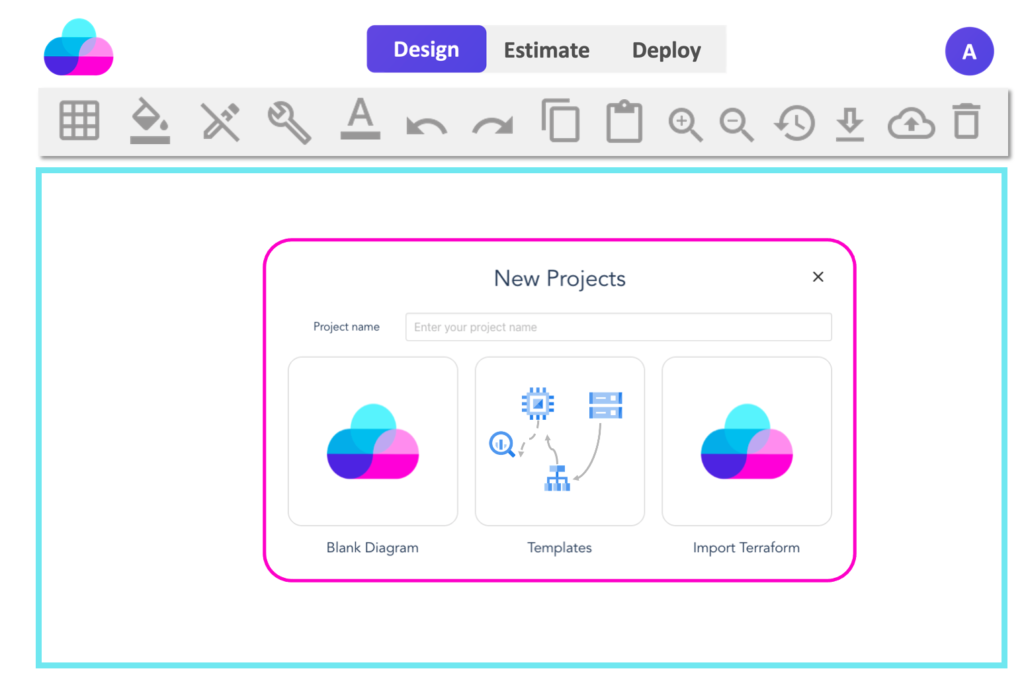 Use the latest set of Google Cloud icons
The Google Cloud Platform (GCP) has a set of official icons that can be used to represent the various services and products in your cloud architecture diagram. These icons are designed to be visually identifiable, so you can quickly identify what they represent. Actually, the icons are not just pictures, they represent GCP's real products and services. You have access to all of these icons in the Holori GCP architecture diagram tool. We have sorted them by product category and they are searchable by name.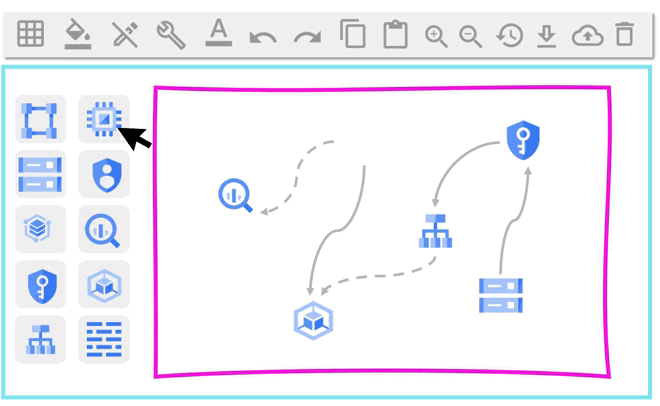 Ready to get started with our GCP Architecture diagram tool?