Ultimate Azure Pricing Calculator
Specify your compute and storage requirements and calculate the best Azure VM and disk pricing.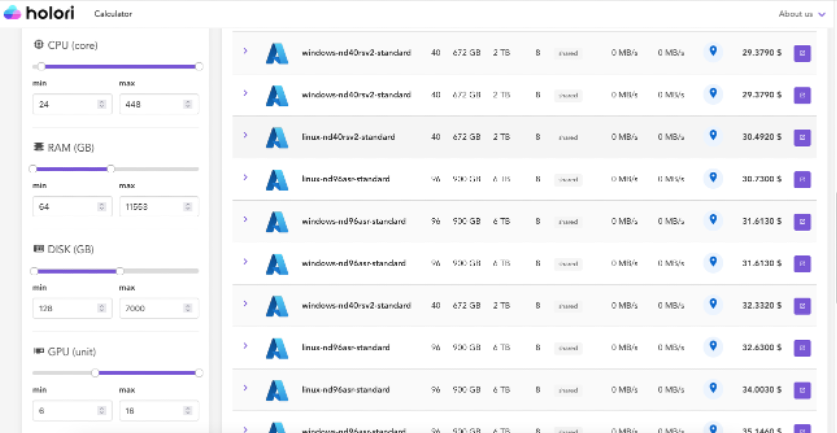 Holori Azure pricing calculator estimates the costs for:
Azure Compute
Azure Functions
Azure App Service
Azure Compute
What are Azure Virtual Machines?
Azure Virtual Machines provide on-demand and scalable computing resources with a pay as you go pricing model.
Azure Virtual Machines can be compared to a server, each VM has its own virtual hardware including CPUs, RAM, hard drives, network interfaces…
The main advantage of Azure VM is the flexibility as users can scale or resize capacity instantly and choose from a large variety of options that makes Azure pricing complicated to understand.
Indeed, Azure VM pricing will be different depending on the payment model chosen by the user as well as the instance types and sizes.
As a result, Holori Azure pricing calculator lists more than 30 000 offers for Azure only.
Here is our guide to better use Holori Azure pricing calculator
1 – Define Azure VM Requirements
Azure VM represent a large part of your monthly cloud spends. You should therefore be very careful when choosing them to anticipate their costs.
Our Azure VM pricing calculator gives the opportunity to specify your requirements and find the most appropriate Azure VM.
Using Holori Azure calculator, you can play with the following parameters:
CPU – GPU – Memory – Price – Storage – Location – OS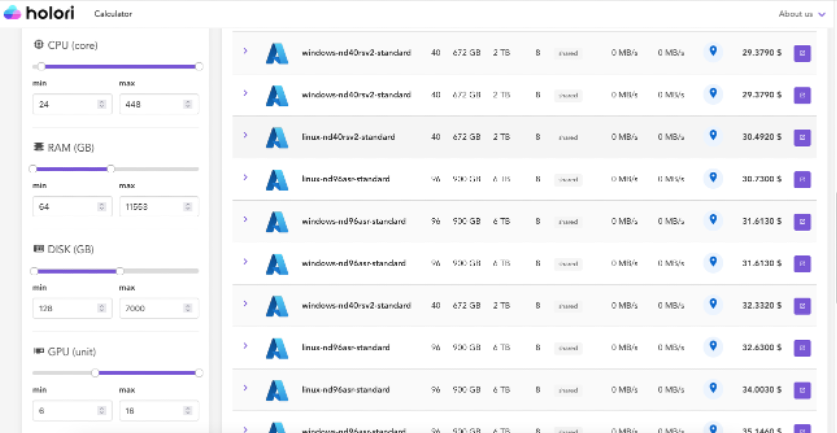 2- How to select the right Azure Virtual Machine?
The 6 main Azure instance types are:
General Purpose
Azure General Purpose Instances are ideal when you have a balanced ratio of memory and CPU. These VM are perfect for low to medium traffic servers, databases or for testing and dev environments.
Azure General Purpose instances include the following ones: Av2, B, DCv2, Dv2, DSv2, Dv3, Dsv3, Dav4, Dasv4, Ddv4, Ddsv4, Dv4, and Dsv4.
Compute optimized
Azure Compute optimized VM are ideal for medium traffic servers, network services, application servers and batch processing. They offer strong CPU to memory ratio.
There is one type of Azure Compute VM: Fsv2.
Memory optimized
Azure Memory optimized VM are best for applications requiring a high memory to CPU ratio as they offer more RAM making them ideal for analytics, relational databases or caching services.
Azure Memory optimized VM are the following ones: Dv2, DSv2, ev3, Esv3, Eav4, Easv4, Edv4, Edsv4, Ev4, Esv4, M, and Mv2.
Storage Optimized
Azure Storage Optimized VM can be used for most of your data related activities such as big data, data warehousing, transactional DB, SQL or NoSQL databases etc.
Their high disk throughput and IO makes them particularly suitable for these applications.
There is one type of Azure Storage optimized VM: Lsv2.
GPU
Azure VM with lots of GPU are specifically tailored for graphic rendering, model training, deep learning or video editing.
Azure GPU VM are the following ones: NC, NCv2, NCv3, ND, NDv2, NV, NVv3, and NVv4.
High performance compute
Azure high-performance computing VM offer best in class resources such as their CPU. They are specifically designed for demanding compute workloads. They also offer high throughput networking.
Azure high-performance computing VM are: H, HB, HBv2, and HC
3- How to choose the right Azure VM pricing model?
There are 3 types of Azure pricing models: Pay as you go, Reserved Virtual Machines and Spot Instances
Pay as you go Azure VM pricing
Azure on-demand VM pricing can be seen as "pay for what you use". There is no commitment, it's a "contract" that can be revoked at any time.
The billing on demand is made for enhanced flexibility as you can decide to scale or decrease capacity at any time and pay the specified hourly rates for the VM you use.
With Holori Azure pricing calculator you can choose from a large pool of VM types and adjust to make it tailored to your needs.
This billing model is ideal for short term or unpredictable applications where traffic peaks are difficult to forecast.
Reserved Virtual Machine Instances
Azure Reserved Virtual Machine are instances booked in advance with a 1- or 3-year commitment period. The discount can be as high as 72% making it a very interesting option to save costs on Azure VM. If your needs change, the contract can be converted into a pay as you go model at the middle of your contract. This purchase model is particularly convenient for people who can forecast the traffic of their applications and as a result save costs.
Azure Spot VM pricing
Azure Spot instance are a very interesting option to save costs.
On Holori Azure pricing calculator you can find Azure VM spot instances than can be discounted up to 90% compared to the standard Azure VM price. The spot price of each VM type is different in each availability zone.
Azure Spot VM are perfect for users who want to lower their Azure VM costs as much as possible, applications should however not be critical since the service can be rapidly interrupted by Azure.
4 – What differentiates Azure pricing from AWS?
Azure Hybrid Benefit
For companies already using Microsoft licenses in their on-premises data centers for Windows Server or SQL Server, the Azure Hybrid Benefits offers the possibility to bring them to the cloud. This is called BYOL that stands for Bring Your Own License.
When using the Azure pricing calculator, the VM price displayed includes the Azure license price, which means that if you already own a license, you can get a discount.
You can save up to 85% over the standard pay-as-you-go rate by bringing your Windows Server and SQL Server on-premises licenses to Azure
According to Azure, thanks to this advantage, AWS is 5 times more costly than Azure for Windows and SQL servers.
Azure vs AWS price match
Azure commits to align their prices on AWS with a latency of 90 days for comparable services within the same location.
They claim to align their prices for the following services:
– Azure Linux virtual machines vs AWS EC2
– Azure Functions vs AWS Lambda
– Azure Block Blob storage (ZRS HOTS) vs AWS S3 Standard
– Azure Block Blob storage AWS S3 Standard-Infrequent Access
5 – Find the most suitable location with Holori Azure Calculator
Azure VM machines costs can vary significantly depending on the location of the server. Holori Azure pricing calculator allows you to either identify the cheapest options for given locations or the cheapest location for your VM globally.
6 – Compare your Azure Virtual machine to other providers' Virtual Machines
Holori Azure costs calculator lets you compare Azure Virtual Machines to other cloud providers compute instances. Based on your requirements you can compare Azure vs GCP, Azure vs AWS…
Azure Functions
Azure App Service
See below the Azure Virtual Machines we compare in our Azure pricing calculator
For more details go to Holori Azure pricing calculator
Azure pricing calculator to estimate storage costs
Azure Virtual Disk
Azure Blob Storage
Azure File System
Azure Virtual Disk
What are the disk storage options offered by Azure?
There are various types of disks you can choose from when looking for the best storage option alongside your Azure VM.
When you have many Virtual Machines, the disks can represent a high percentage of your costs.
Therefore, understanding Azure Storage pricing is key to lower your costs. To make it short, disks are charged monthly at a flat rate and on top of this there is a volume based pricing every 10 000 transactions.
What are the key cost drivers when choosing your Azure disk?
The main drivers are disk type, size, redundancy, and data transactions.
Disk type: our Azure calculator can help you select the right one
As for any disk, its type will greatly influence its performance but also its cost.
There are several disk type options offered by Azure: Standard SSD, Premium SSD, Ultra Disk, Standard HDD.
Standard SSD
Standard SSDs are best for less or moderately demanding applications such as web servers or even light big data tasks. They are compatible with all Azure Virtual Machines.
Premium SSD
Premium SSDs are ideal if you are running demanding applications with high throughput and low latency requirements such as Cassandra, SQL servers or MongoDB. They are perfectly suitable for your workloads running in production and that are sensitive.
Only VMs compatible with premium storage can be used with this disk type.
Ultra Disk
You should consider using Ultra Disk when high throughput, strong IOPS storage and lower latency are required to run your data intensive tasks.
It is important to note that these disks are made for data storage and won't be suitable for OS. You can choose from a storage capacity ranging from 4Gb to 64Tb.
HDD Standard
HDD Standard disks are Azure's cheapest options that you should reserve for your lower priority tasks or resources. They have a wide compatibility range with all Azure Virtual Machines and locations. Despite their lower performance these disks remain attractive for backups, testing or recovery configurations.
With Holori Azure pricing calculator you are able to find every type of disk and choose the one that suits the best your needs.
Disk size: a key element of your Azure costs
With Holori Azure pricing calculator you can select the required disk size or compare the prices for different disk configurations.
It is important to note that disks are billed for their full capacity and their real use.
Pick up the right Azure Disk redundancy option
Azure offers various redundancy options for its storage products.
Using Holori Azure Pricing Calculator and the tagging system you can narrow down your search to the results offering the redundancy you need.
The redundancy options offered by Azure are:
Locally redundant storage (LRS) stores your data 3 times within a same physical location in the primary region. LRS is Azure's least expensive replication option, it is not suitable for applications that require high availability or durability.
Zone-redundant storage (ZRS) duplicates your data across 3 availability zones in the primary region. For applications that require high availability, Microsoft advises to use ZRS in the primary region, and replicate it as well in a secondary region.
Geo-redundant storage (GRS) and Geo-zone-redundant storage (GZRS) duplicates storage in the primary and secondary region as well.
With Holori Azure Pricing Calculator you can choose the most suitable redundancy option for your disks.
In addition to the variables described above, Azure bills an extra fee per 10 000 transactions.
How to forecast Azure disk costs in Holori Azure Pricing Calculator?
Using Holori Azure pricing calculator you can easily define your requirements and identify the best Azure storage disk.
In a generic way, users can define the storage capacity they need, the output transfer rate, the output request number as well as the input transfer rate and number of input request. Holori Azure calculator will narrow down the results helping you in the decision process.
Azure Blob Storage
Azure File System