Azure Architecture Diagram Tool
With Holori Azure Architecture Diagram Tool, you can design, manage, and scale your Azure infrastructure from one visual interface !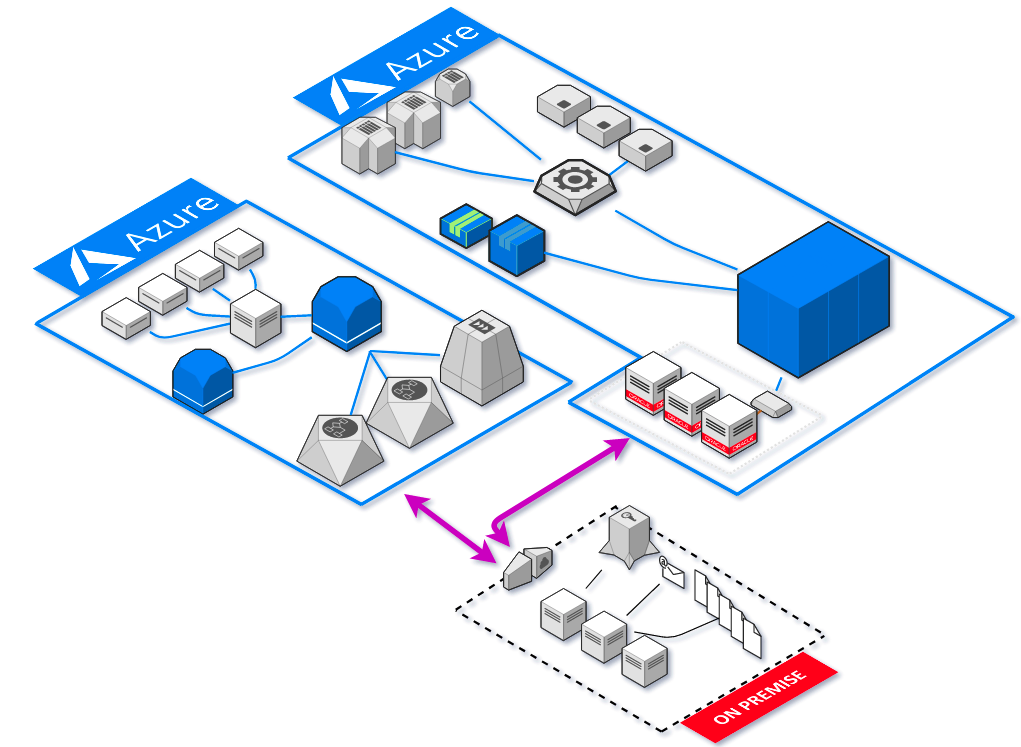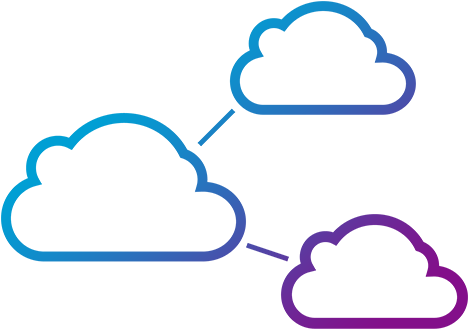 Draw and visualize Multicloud diagrams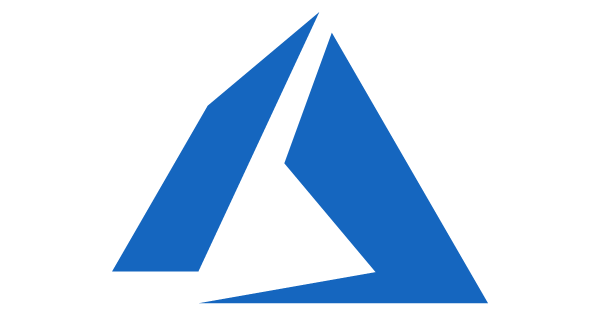 Draw and visualize Azure diagrams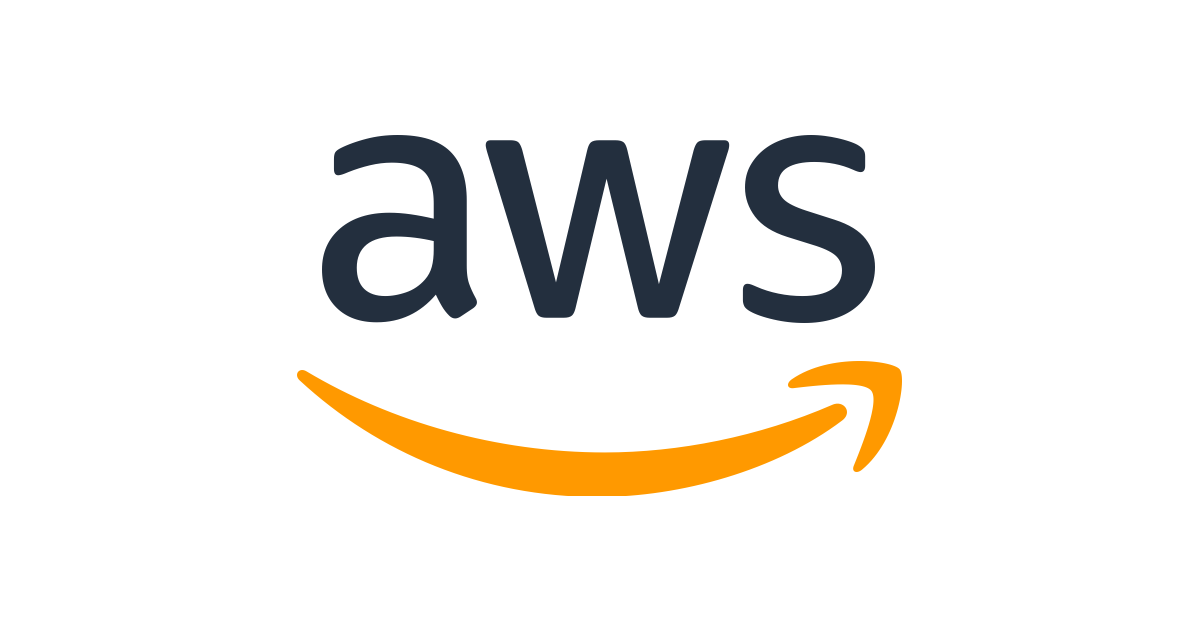 Draw and visualize AWS diagrams


Draw and visualize Architecture diagrams
Draw and visualize architecture diagrams
Draw and visualize mutlicloud diagrams
Draw and visualize AWS diagrams
Draw and visualize Azure diagrams
Struggling with the Azure console? Use the Holori Azure Architecture diagram tool instead
Holori Azure diagramming software is your "all-inclusive" solution for designing, visualizing, forecasting and deploying your infrastructure on Microsoft Azure. All the elements you need are natively embedded in the software such as Azure architecture icons, Azure templates, Azure prices… The goal is to provide a seamless experience so that you can design and provision infrastructure effortlessly and at the best possible cost.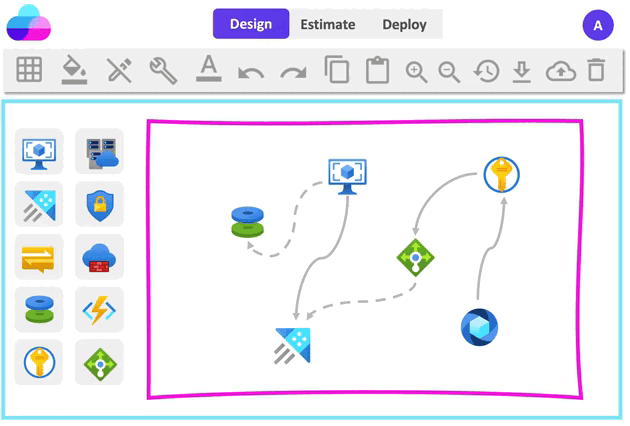 Cloud cost estimation directly in the Azure architecture diagram tool
To serve as many clients as possible and broaden its offerings Azure is expanding its product portfolio and adding more than additional 100 data centers every year. Because each service has its own pricing depending on the location, it would take hours for Azure users to find the optimal pricing manually on the Azure pricing calculator. 
With the Holori Azure architecture diagram tool, we provide an estimation of the cost of your architecture diagram at the location you selected as well as identify the location that would provide the same level of service but at a cheaper price within Azure.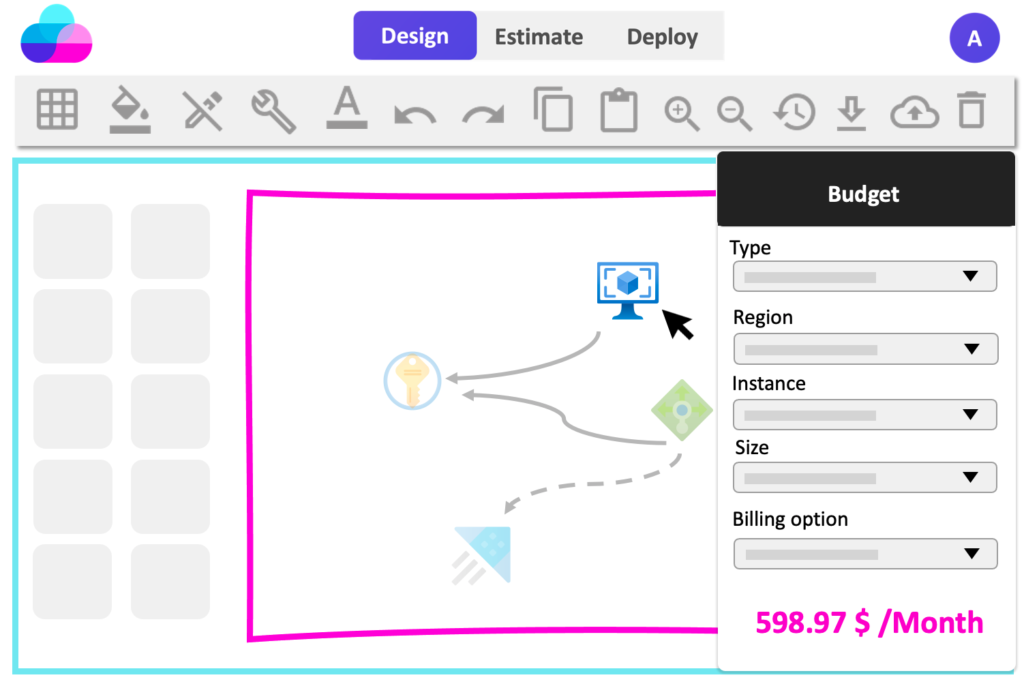 Save up to 70 % on Azure cloud costs
10X time faster from design to deployment
100% visibility on cloud resources and their costs
Visualize your infrastructure easily with Holori Azure diagram tool
Holori helps you visualize your cloud infrastructure in an easy way. Indeed, if you already have deployed an infrastructure on Microsoft Azure, you can import it into the Holori architecture diagram tool and visualize all the resources that are interacting together in your cloud environment. This is very useful to understand relationships between resources, services, network routes and application components that you can't see in the Azure console. This visual representation of your infrastructure can be used to identify places that might need greater capacity as well as potential bottlenecks or even security breaches. Additionally, you may attribute a tag to each resource so that you can easily identify your resources in the future. Overall, visualizing your infrastructure will help you to better understand your infrastructure and is a great starting point for future iterations of your architecture.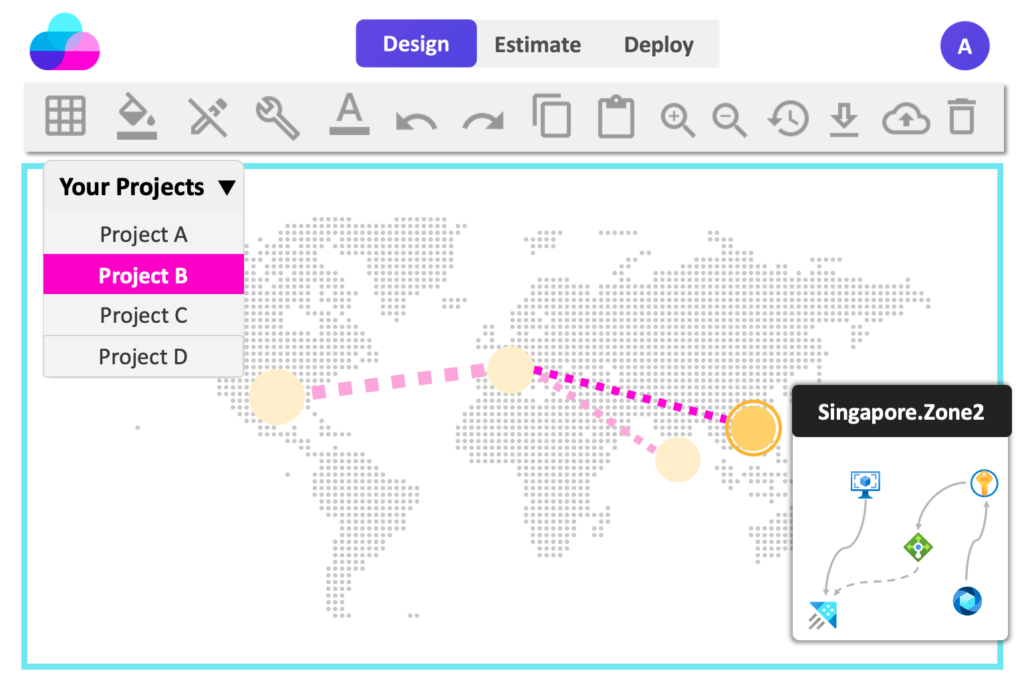 A complete Azure architecture diagram software for every situation
You may construct any type of Azure diagrams with Holori's user-friendly interface, web application, Big data application or even Kubernetes architecture. Holori offers an Azure architecture diagram for any scenario and application because of its wealth of built-in features. When drawing diagrams on the Azure architecture diagram software, no additional tools are required and the diagram can meet the needs of various stakeholders such as Cloud architects, DevOps, IT and even your procurement team. 
An IT manager, for instance, could need a broad understanding. On the other hand, DevOps will undoubtedly require deeper knowledge of certain infrastructure components. While your finance department needs information on cost projections.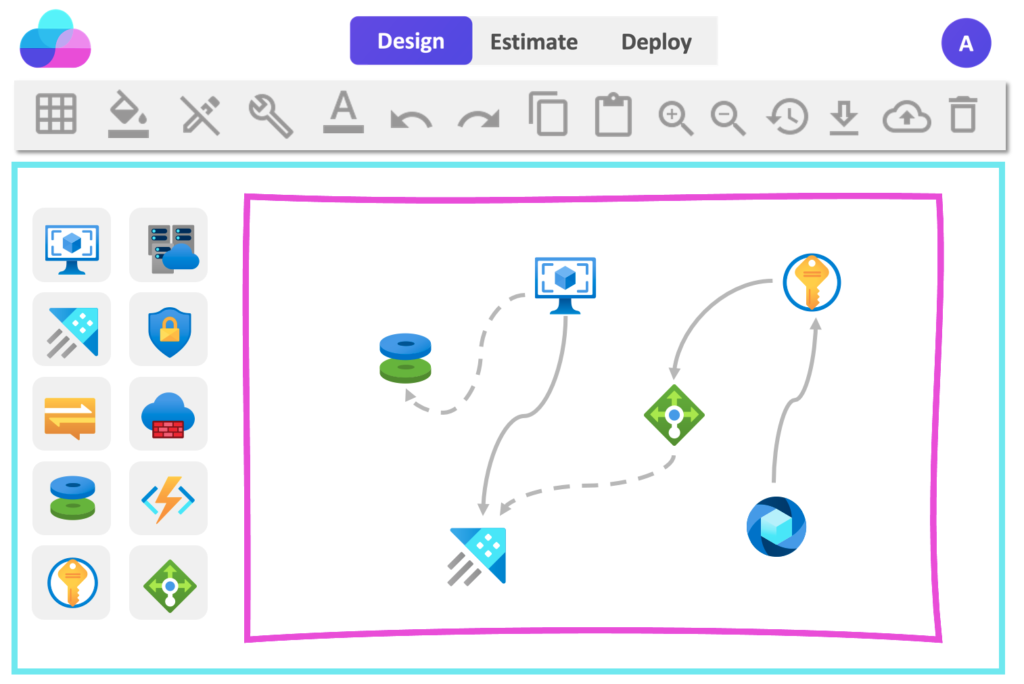 Shrink your cloud cost by 70%!
Holori online software provides recommendations on where to deploy the architecture you have just designed. Indeed, maybe Azure doesn't offer the best deal?
Well, Holori has got your back. We compare and provide recommendations on which cloud provider is the least expensive to deploy your architecture at an equivalent level of performance. You may not be familiar with how to handle the provisioning of your infrastructure on another provider, but once again Holori does it all for you. Just sit back, relax and enjoy the cost savings!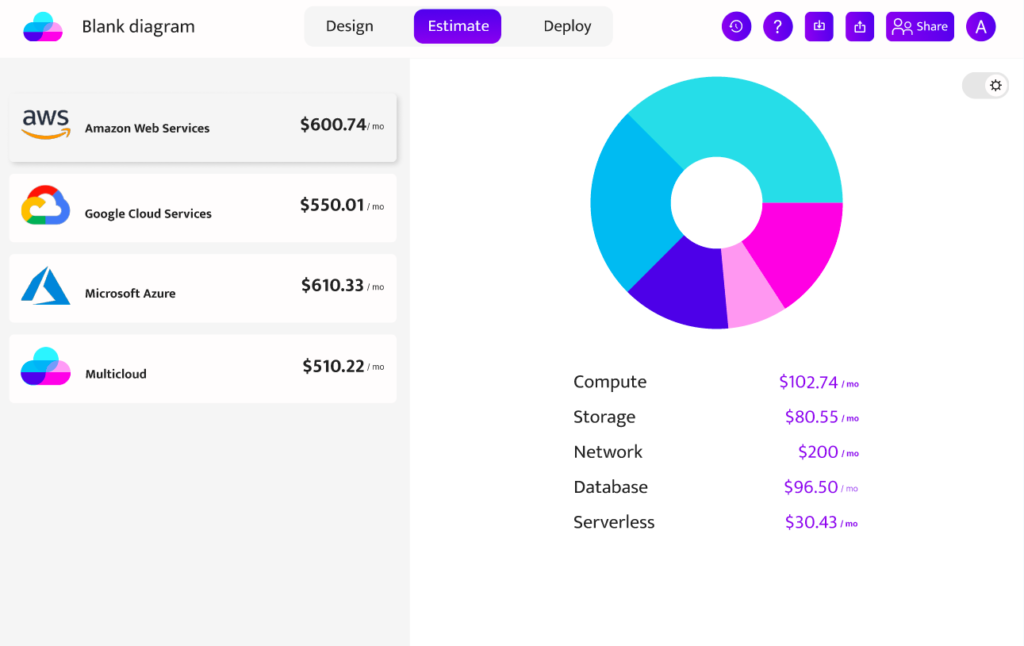 Our Azure architecture diagram software has already won you over, right?
Import your infrastructure by simply connecting to your Azure account
You have two options for importing your current infrastructure: either connect Holori to your Azure console and import the existing infrastructure or import your current infrastructure with terraform. If you have no existing live Azure project, you can also start from scratch and create your first Azure diagram.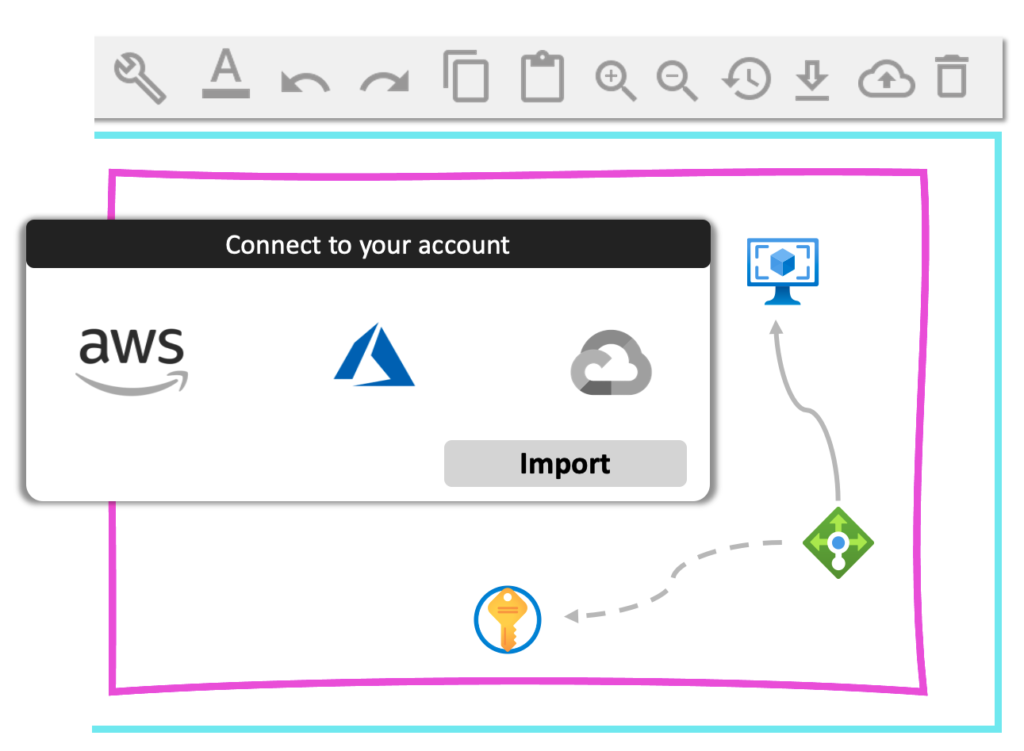 Deploy Cloud Services in minutes with the Azure diagram tool
Holori makes it easy to deploy new services into Azure. It provides an intuitive interface that allows you to visually add new services, configure settings, and connect existing services together. Holori is a visual alternative to the Microsoft Azure console. 
It allows you to deploy virtual machines (VMs) and containers directly into Azure. This means you can quickly spin up new VMs or containers without having to do it manually on the Azure console.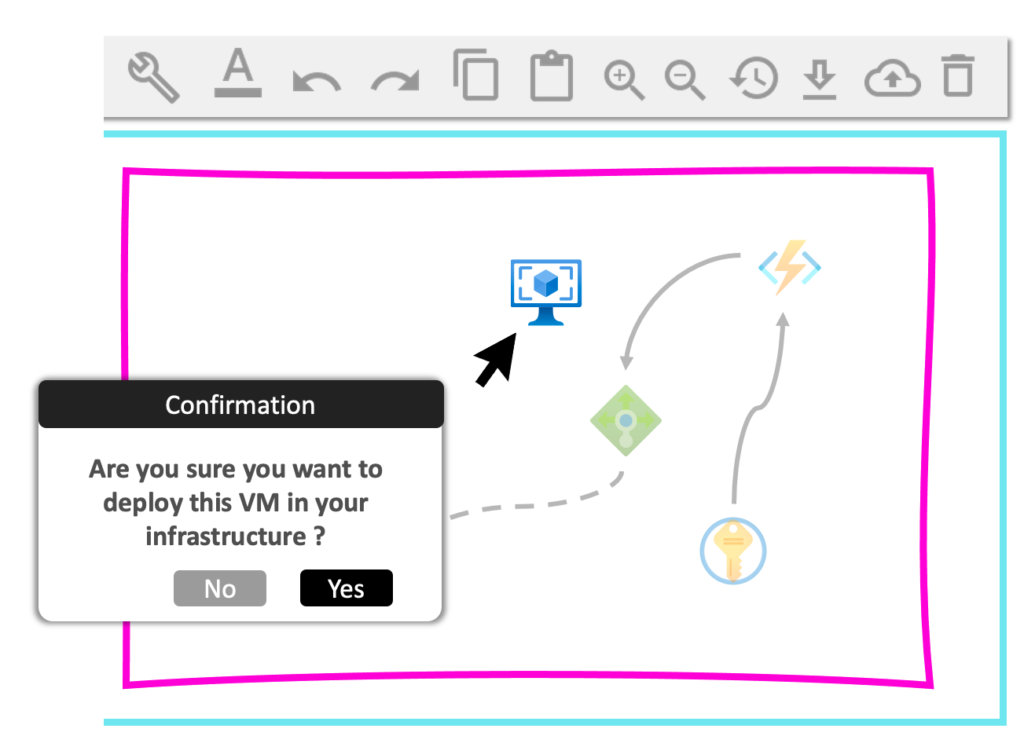 Ditch the time-consuming Azure certification program and switch to Holori Azure diagram software!
Azure offers a wide range of services such as compute, network, storage, analytics etc. in each category there are many different products making it almost impossible to know every Azure product name and specificity. Who is gonna remember the difference between the B4ms and the D64as v5? Nobody, it's impossible…and this is why in the Holori Azure diagram tool we have sorted the products by categories making it simple even for beginners to use Microsoft Azure. If you come from another cloud provider platform such as GCP or AWS, we go even further allowing you to draw the architecture diagram on the providers you are familiar with and show you the equivalent resource/service on Microsoft Azure.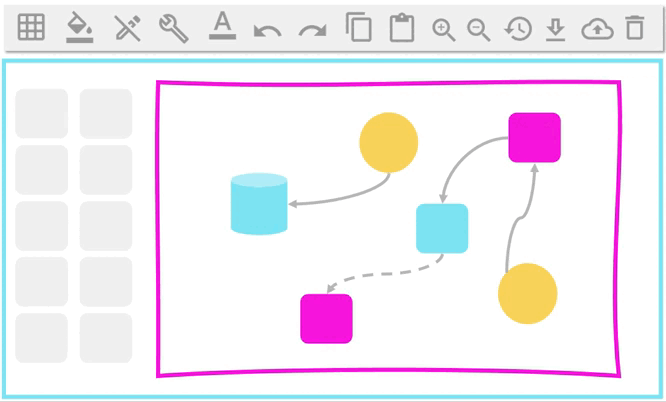 Export your Azure diagram using Terraform
Holori lets you fill the terraform attributes of each resource/service you have used in your Azure diagram. This gives you the possibility to export the whole terraform code of your Azure architecture diagram when you are done designing your project. 
Knowing all terraform attributes is impossible but with Holori you will be able to generate a terraform script faster than if you were starting from scratch and digging in terraform documentation.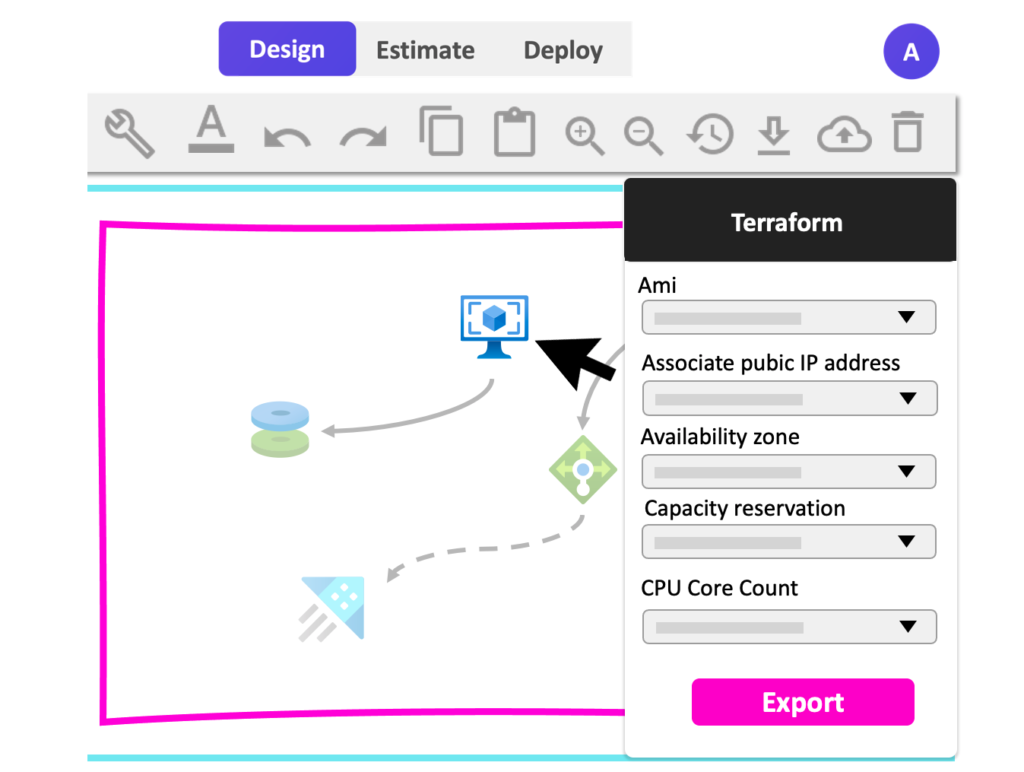 Share Azure diagram with colleagues, stakeholders or clients
When you use Holori to design and manage your Azure infrastructure diagram, you can easily collaborate on projects with your teammates as well as other users for impactful work. You can give access to your diagrams online or export it in many formats such as PDF and JPG. Holori Azure architecture diagram tool allows your company to visualize your whole infrastructure and understand how projects interact with one another from the perspective of different teammates, departments etc.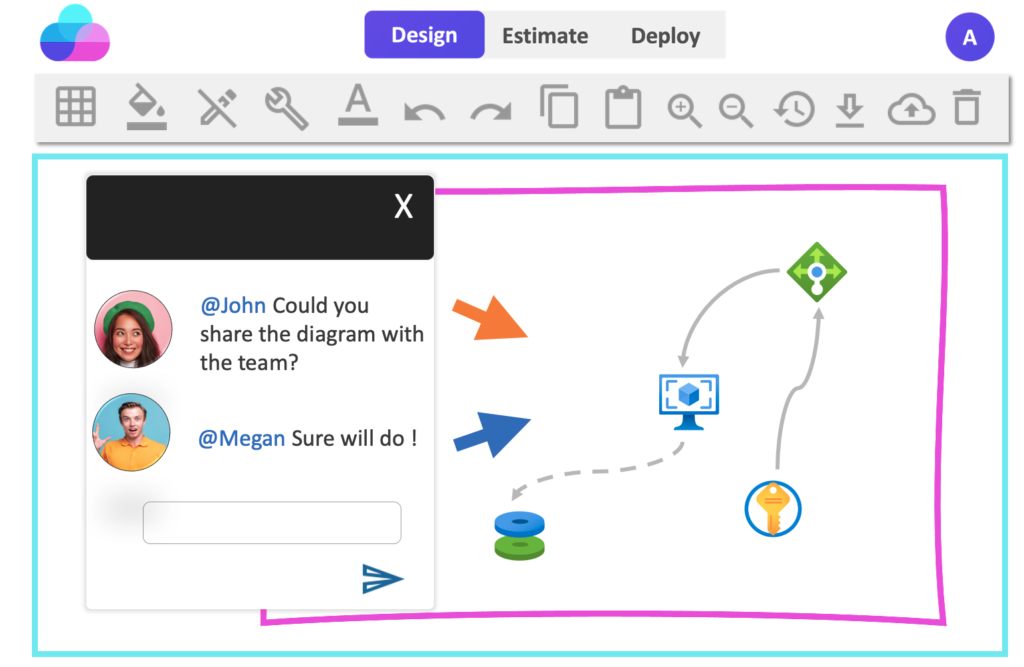 Discover the power of the Holori diagramming tool with the many Microsoft Azure symbols. Azure Active Directory, Azure Functions, CosmoDB, Azure SQL, and Azure CDN are just a few of the many Azure services that Holori lists. Compute, Storage, Network, Databases, and Serverless are the five main categories into which all services are divided. On the left, they are plainly visible to the user.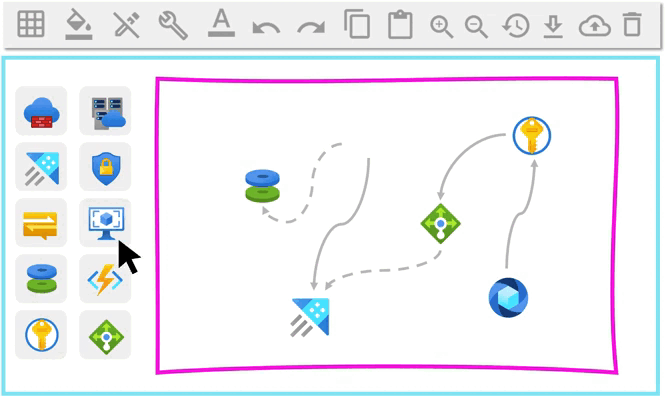 A must-have Azure architecture diagram software to monitor Cloud Services
While using Holori as Azure Architecture Diagram Tool, you can monitor your cloud services at any time by using the Azure Monitor dashboard. This includes monitoring the status of individual instances, as well as the overall health of your entire environment. You can view detailed metrics such as CPU utilization, memory usage, disk space, network bandwidth, and more. You can even use the dashboard to view alerts so you can respond immediately when something goes wrong.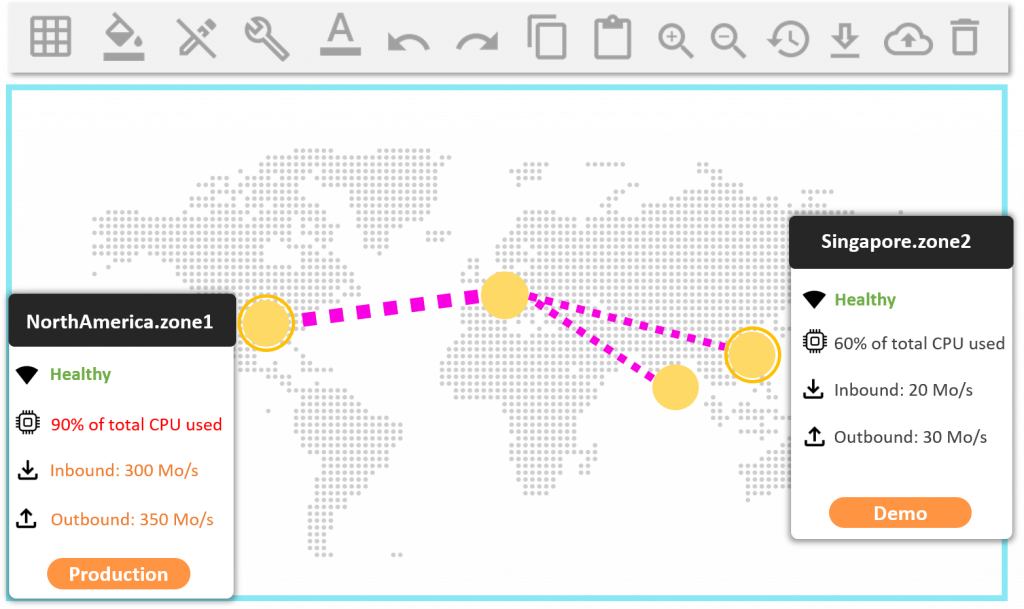 A very rich template library for Azure diagram
With our Azure templates library you are able to start faster on your Azure diagram. Azure templates have been made by Cloud Architect experts. Templates are available for many use cases such as Azure Three tier architecture, Azure machine learning architecture or Azure Web app architecture.
You can also create your own template! Once you are satisfied with your Azure Architecture you can save it reuse as many times as you want for future Azure diagram.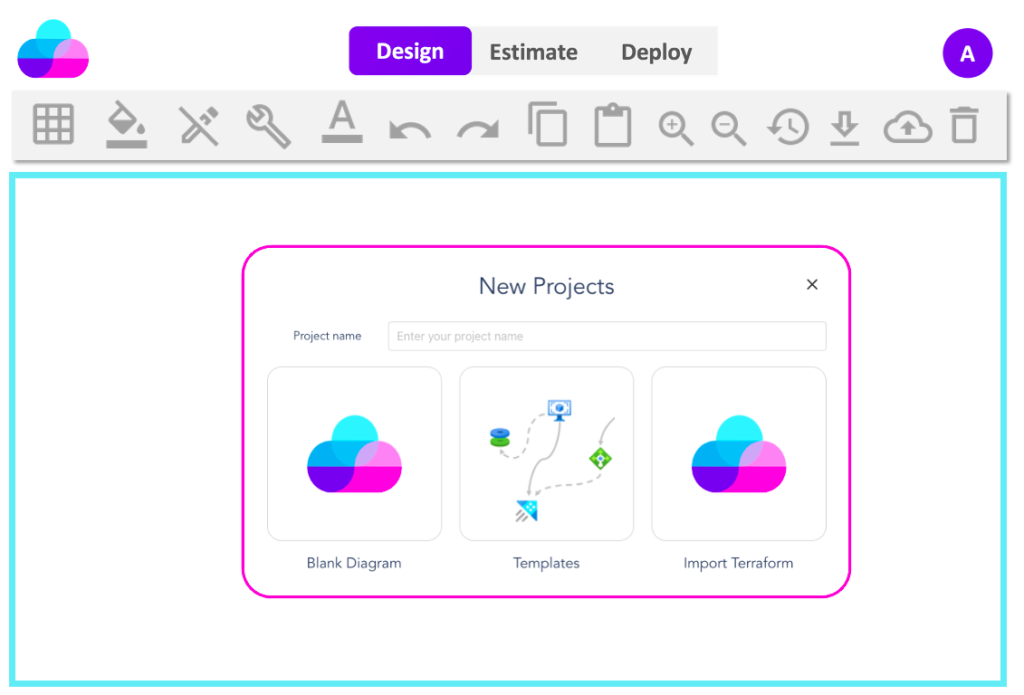 Interested in trying our Azure architecture diagram tool?