Ultimate AWS Pricing Calculator
Define your AWS instance type requirements and estimate AWS costs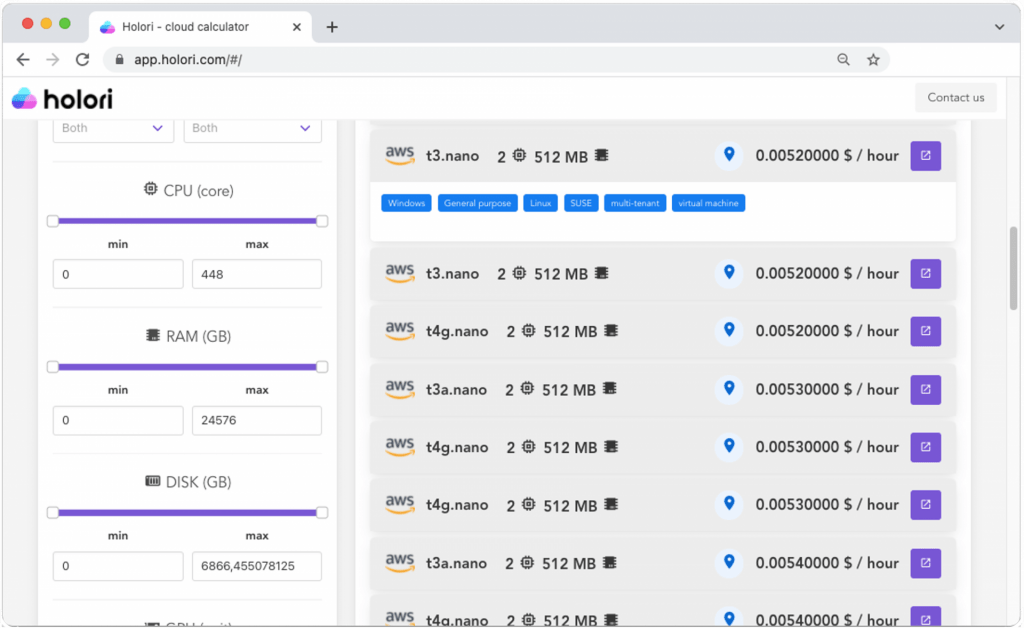 Holori AWS calculator compare the following instances
| Name | CPU | RAM | GPU | Average price/hour |
| --- | --- | --- | --- | --- |
| for all locations in USD" | | | | |
| a1.2xlarge | 8 | 16 | 0 | $0,38 |
| a1.4xlarge | 16 | 32 | 0 | $0,59 |
| a1.large | 2 | 4 | 0 | $0,12 |
| a1.medium | 1 | 2 | 0 | $0,08 |
| a1.metal | 16 | 32 | 0 | $0,52 |
| a1.xlarge | 4 | 8 | 0 | $0,19 |
| c1.medium | 2 | 2 | 0 | $0,25 |
| c1.xlarge | 8 | 7 | 0 | $0,77 |
| c3.2xlarge | 8 | 15 | 0 | $1,25 |
| c3.4xlarge | 16 | 30 | 0 | $3,97 |
| c3.8xlarge | 32 | 60 | 0 | $6,58 |
| c3.large | 2 | 4 | 0 | $0,26 |
| c3.xlarge | 4 | 8 | 0 | $1,3 |
| c4.2xlarge | 8 | 15 | 0 | $1,85 |
| c4.4xlarge | 16 | 30 | 0 | $2,81 |
| c4.8xlarge | 36 | 60 | 0 | $5,55 |
| c4.large | 2 | 4 | 0 | $0,4 |
| See more on Holori cloud calculator | | | | |
AWS pricing calculator to estimate compute costs
AWS EC2
AWS Lambda
AWS Lightsail
AWS Fargate
AWS Beanstalk
AWS Batch
AWS EC2
What is AWS EC2?
AWS EC2 (Amazon Elastic Compute Cloud) is AWS most famous product. Amazon EC2 is a web-based service that allows you to securely rent computing power to run your applications.
The main advantage of EC2 is the flexibility as users can scale or resize capacity within minutes and choose from a large variety of options: processor, storage, networking, operating system, deployed regions and purchase model.
AWS EC2 offers near 400 different instances, across a total of 24 regions and almost 80 availability zones through the world.
Here is our tutorial to better understand Holori AWS pricing calculator
1 – Define EC2 Requirements
EC2 instances are the major drivers of your cloud bill and it's therefore key to carefully select them and estimate their costs.
Our AWS pricing calculator offers the possibility to specify your requirements and find the appropriate EC2 instance.
You can adjust the following parameters in Holori AWS calculator:
CPU – GPU – Memory – Price – Storage – Location – OS

2 – How to select the right AWS EC2 Instance type?
The main EC2 instance types are:
– General Purpose: The most popular; used for web servers, development environments, etc. They are a good way to start when beginning on AWS
Type : A1, M5, T3/T3a, T2, M6G, M5A, M5N, M4
– Compute Optimized: Good for compute-intensive applications such as scientific modeling or high-performance web servers.
Type: C5, C4, c5N
– Memory Optimized: Good for anything that needs memory-intensive applications, such as real-time big data analytics or Hadoop/Spark clusters.
Type: X1, High Memory, Z1
– Accelerated Computing: If you need additional computing power, you can use dedicated resources such as GPUs, FPGAs Ex: Ethereum mining or machine learning.
Type: P3, G3, F1
– Storage Optimized: Convenient for tasks that require huge storage capacity
Type : I3 D2 H1
Holori AWS pricing calculator will narrow down the results for the most suitable EC2 instance type based on your requirements.

3 – Understand how to choose the right purchase model
There are 4 main purchase models for EC2 instances. Each of these purchase models will impact the EC2 pricing.
Reserved instances
By purchasing Reserved instances, you have a long-term commitment (1 to 3 years). RIs are very suitable for production applications with predictable workloads and high availability requirements. Reserved Instances grant you capacity reservation in a specific Availability Zone. The advantage is a very significant discount (up to 75%) compared to On-demand instance pricing.
On-demand instances
AWS on-demand instances pricing can be seen as "pay for what you use". There is no commitment, it's a "contract" that you can revoke at any time.
The billing on demand is made for greater flexibility as you can decide to scale or decrease capacity instantaneously and pay the specified hourly rates for the instance you use.
With Holori AWS pricing calculator you can choose from a large catalogue of instance types and adjust to make it very specific to your needs.
This purchase model is very suitable for short term applications or for unpredictable applications where traffic peaks are hard to forecast.
Spot instances
On Holori AWS pricing calculator you are able to find EC2 spot instances.
EC2 spot instances are spare capacity from AWS that you can purchase at an important discount compared to on-demand. Discount can go up to 90% making it the cheapest option to get EC2 capacity. The spot price of each instance type is different in each availability zone and varies based on supply and demand.
Saving plans
Similarly to Reserved instances, saving plans helps you to anticipate and plan your cloud budget with the advantage of bringing even more flexibility. Thus, you can commit to a EC2 compute spend per hour at a discount rate over 1 – 3 years. If your usage exceeds the commitment, AWS will charge the regular on-demand rates.
With Holori AWS pricing calculator you can see the price per hour up to a 3-year commitment period.
4 – Find the most suitable location
EC2 instance costs can vary greatly depending on the location of the server. Our AWS pricing calculator allows you to either identify the cheapest options for given locations or the cheapest location for your EC2 instance globally.
5 – Compare your AWS EC2 instances to other providers' compute instances
Why should your AWS pricing calculator only be limited to AWS?
Holori cloud cost calculator lets you compare EC2 instances to other cloud providers compute instances. Based on your requirements you can compare AWS vs GCP, AWS vs Azure…

AWS Lambda
AWS Lightsail
AWS Fargate
AWS Beanstalk
AWS Batch
See below the EC2 instances we compare in our AWS pricing calculator
For more details go to Holori AWS pricing calculator
AWS Pricing Calculator to estimate storage cost
AWS EBS
AWS S3
AWS EFS
AWS FSX
AWS EBS
Getting started with Amazon EBS
Amazon Elastic Block Store (AWS EBS) is a storage service made for Amazon EC2 instances. The user has the possibility to choose multiple workloads to deploy on Amazon EBS such as relational and non-relational databases, big data analytics engines, applications, containerized applications, file systems.
There are four different volume types that can be used with Amazon EBS to ensure that workloads are optimized in terms of pricing and performance. Some parameters can be adapted such as volume types, performance, volume size.
Each Amazon EBS volume is automatically replicated elsewhere in the same Availability Zone within the AWS region. This offers high availability (guaranteed 99.999% by Amazon) and redundancy.
How to choose AWS EBS volume type?
Two Types of AWS EBS Volumes exist: SSD-backed volumes and HDD-backed volumes.
SSD-backed volumes
SSD-backed volumes offer the best performance for transactional workloads requiring a lot of read/write operations. The unit to measure theses volumes is called IOPS (input/output operations per second.
SSD can then be divided into 2 volume types: gp2 General Purpose SSD and io1 EBS Provisioned IOPS SSD.
The gp2 volume pricing is based on the amount provisioned monthly until the storage is released. The cost of a gp2 volume is $0,10/GB/month of storage provisioned.
The io1 volume pricing is based on the amount provisioned monthly until the storage is released. The monthly pricing also considers the amount provisioned in IOPS (input/output operations per second).
The volume cost for provisioned IOPS (io1) is $0,125/GB/month for the provisioned storage and $0,065/provisioned IOPS/month.
HDD-backed volumes
HDD-backed volumes are most suitable for large sequential workloads requiring high quantity of data exchange. The volumes are measured un MiB/s.
Two different volume types are available: Throughput Optimized HDD (st1), and Cold HDD (sc1).
Volume storage for Throughput Optimized HDD (st1) volumes is invoiced by the amount provisioned in GB/month until the storage is released. The cost of Throughput Optimized HDD (st1) Volumes is $0.045/GB/month of provisioned storage.
Regarding the Volume storage for Cold HDD (sc1), the cost is based on the amount provisioned in GB/month until the storage is released. The price of Cold HDD (sc1) volumes is $0.025/GB/month of provisioned storage.
How to forecast AWS EBS costs in Holori AWS pricing calculator?

Using Holori AWS pricing calculator you can easily define your requirements and identify the best EBS storage disk.
In a generic way, users are able to define the storage capacity they need, the output transfer rate, the output request number as well as the input transfer rate and number of input request. Holori AWS calculator will narrow down the results helping you in the decision process.
AWS S3
AWS EFS
AWS FSX