Still working on flowchart and diagramming software to design cloud infrastructure?
Ditch the time consuming Lucidchart and switch to Holori.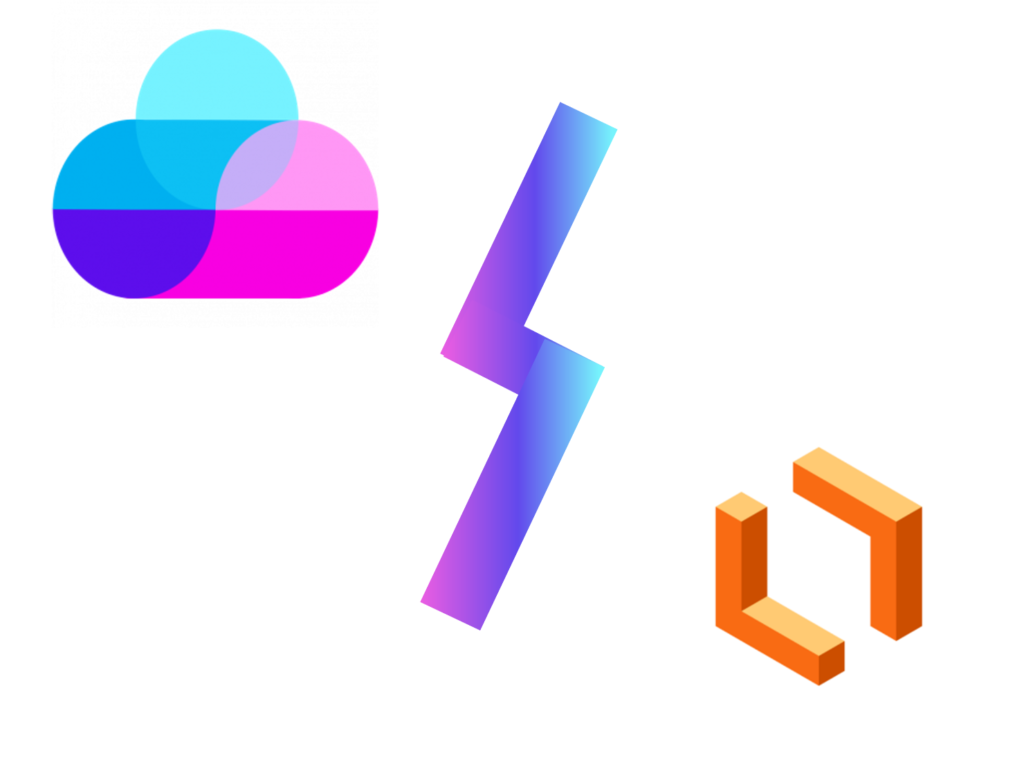 Holori is dedicated to the Cloud industry. We make sure that every Cloud Architect, Dev and DevOps have the right tools to perform their jobs while saving their time, energy and money.
Rather than a simple flowchart software, we provide a real cloud infrastructure management tool. Holori turns your designed architecture into a real infrastructure by provisioning the selected resources automatically.
Lucidchart vs Holori f

eature comparison
6 Reasons to choose Holori as an alternative to Lucidchart
Holori allows you to  visualize as well as to deploy cloud infrastructure.  But Lucidchart is limited to the point of visualization of the architecture diagram only.
The cost of cloud infrastructure cannot be estimated using Lucidscale. Holori estimates the cost of each resource of your cloud infrastructure, allowing you to select the best possible resources of an architecture diagram at the lowest possible cost.
There could be significant price fluctuations amongst cloud providers for the same product. Lucidchart does not provide a pricing comparison service. In our cloud calculator, you can evaluate over 50,000 cloud provider offerings, and we understand cloud product similarities and variations between providers.
Lucidchart is a generic diagramming tool, and with its Lucidscale product, it is attempting to provide something for DevOps and Cloud architects, however this is insufficient. With its new and more effective cloud product solution, Holori is the latest game-changer in the Cloud market.
Unlike Lucidchart, Holori can import your terraform code and convert it into a visual and editable diagram. You can quickly make changes in the visual diagram and then export the Terraform code with a single click to deploy your infrastructure. Isn't that simple and cool?
Is Lucidchart making a big hole in your pocket? Holori is an incredibly budget-friendly architecture diagram software and comes with more advanced features compared to Lucidchart. Holori's diagramming tool is 3 times cheaper than Lucidchart.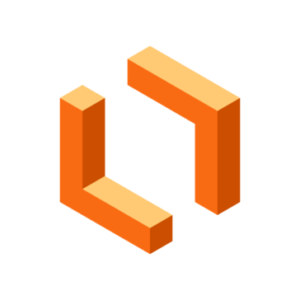 Lucidchart is an online diagramming tool that can be used to visually collaborate on drawing projects, to share charts and diagrams, as well as to improve processes, systems, and organizational structures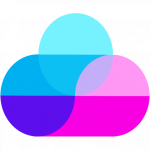 Holori is an end-to-end multi cloud management platform. With our cloud architecture diagram product, one can build awesome multi cloud diagrams, visualize cloud infrastructure, estimate its costs, and deploy it. Here you can use cloud suppliers' icons, configurable components, or the template library to create your cloud architecture.
Maximize ROI, reduce cloud cost
We guide you in maximizing your ROI by advising you on the most cost-effective cloud infrastructure with the highest performance that fits within your budget. To accomplish so, we use our cloud calculator to compare over 50,000 cloud products from major cloud providers such as AWS, Azure, GCP, Oracle, Alibaba Cloud, IBM Cloud, etc. We take into account and compare all of them so that you receive the best deal and best price. You cannot compare cloud costs in Lucidchart.
There may be large price differences for the same services at different locations among cloud providers or within the same cloud provider. Thus, we compare and identify the best price based on your requirements to reduce your cloud expenditure and maximize your results.
Holori vs Lucidchart: Lucidchart doesn't offer any cost estimate.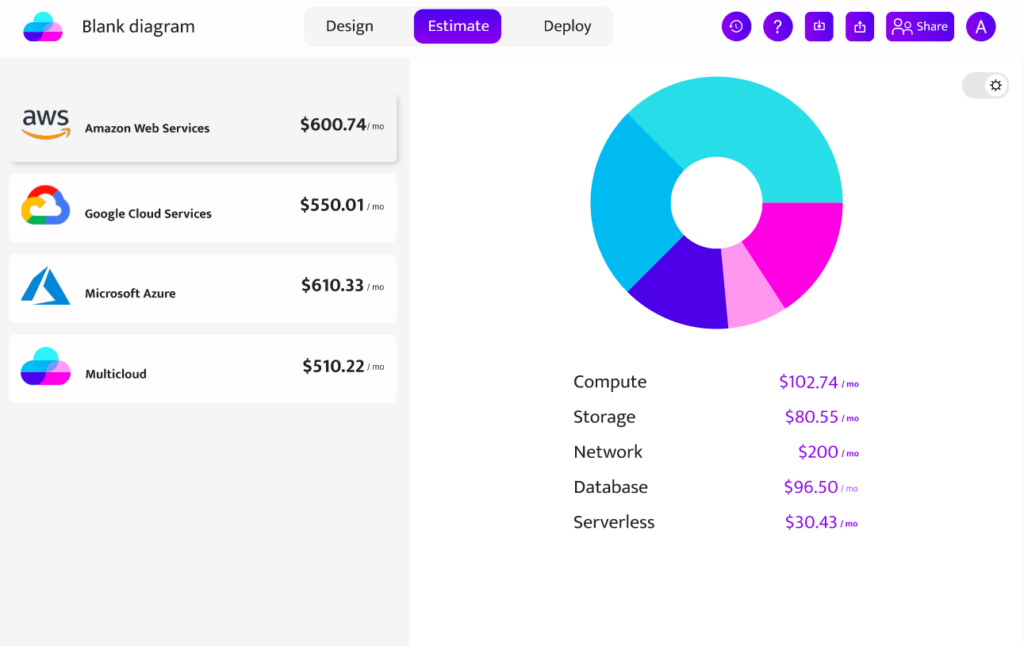 Lazy to start everything from scratch?
With Holori you can import a terraform and we will turn it into a visual and editable diagram. By connecting to your cloud provider console we can also import your existing infrastructure and make it visually accessible and understandable. This will save you a lot of time !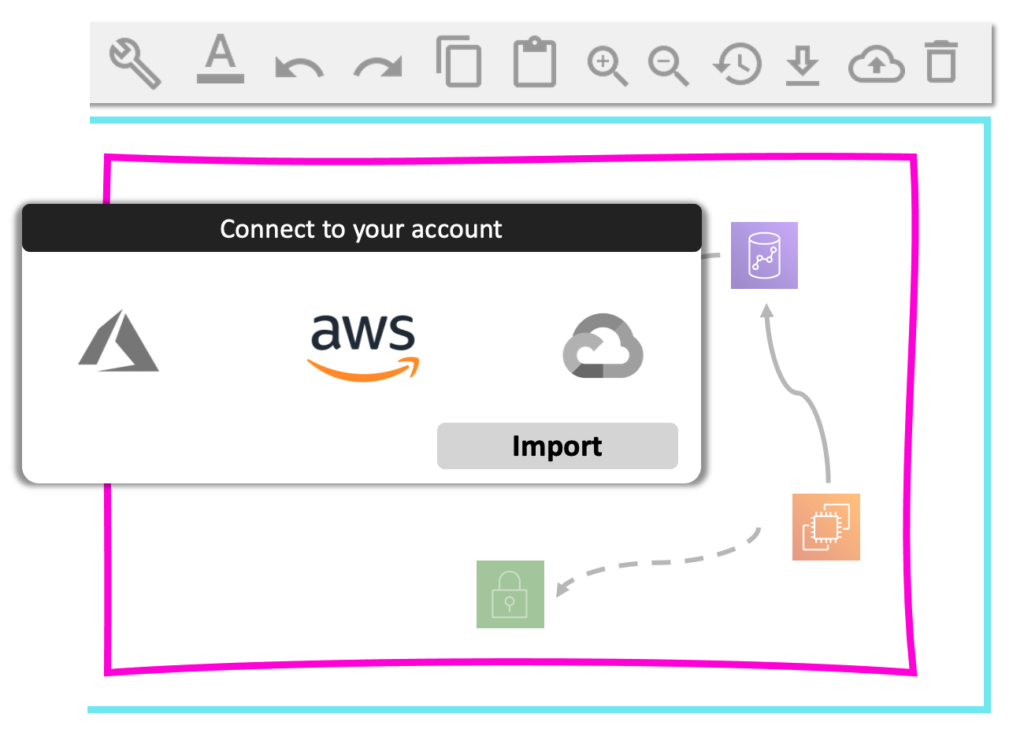 Why bother with a certificate when Holori is available?​
Do you want to pursue a certification and devote many hours to learning in the present era of AI? When designing cloud architecture using Holori, there is no need for AWS, GCP, or Azure certification. Even a layman can create a functional cloud model using our smart solution.
Our diagramming tools can help you learn more quickly: For example, if you create an AWS architecture diagram, we can instantly transform it to a GCP or an Azure diagram.
If you are unfamiliar with any cloud provider, you can build a generic diagram and Holori software will automatically convert it to an Azure/ GCP / AWS diagram. In this manner, certification becomes unnecessary, and you accelerate your learning curve to master new technology.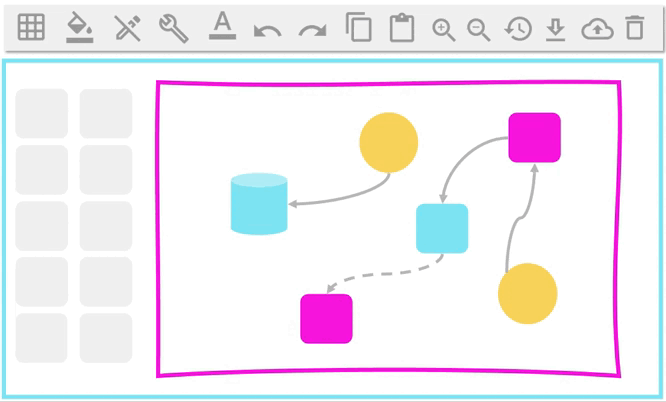 A visual cloud provider console
Instead of going into each cloud provider console manually, you can visually perform modifications directly on the architecture diagram to perform changes or updates.
Lucidchart vs Holori : Lucidchart or Lucidscale doesn't offer to make changes in the diagram that would be reflected in your infrastructure.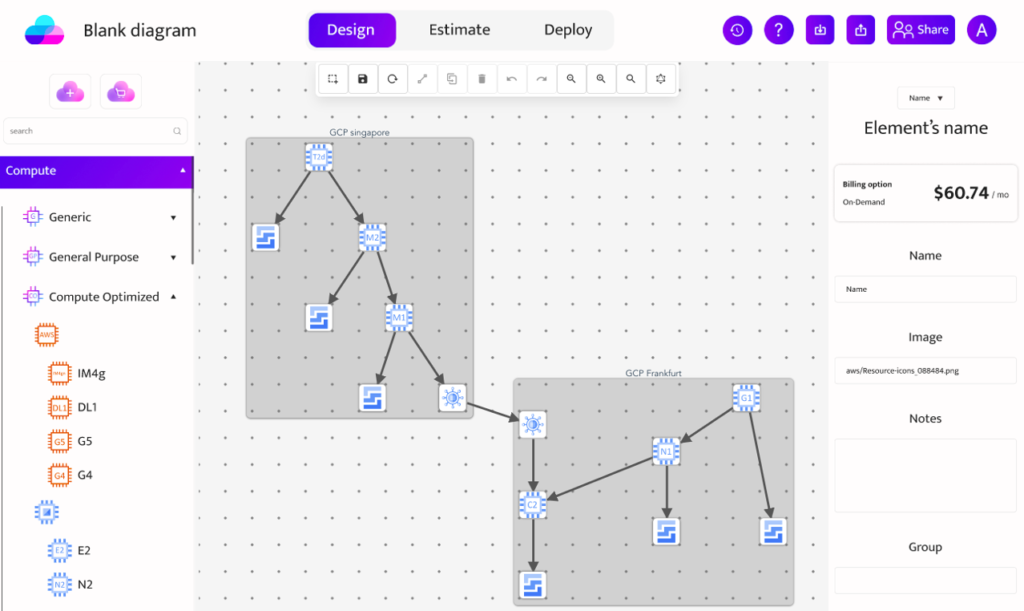 Work efficiently with your team​
You can share the progress of your cloud diagram with your team and accomplish the assignment swiftly on the Holori platform. It speeds up decision-making and benefits the entire team. Holori provides all services with a single click.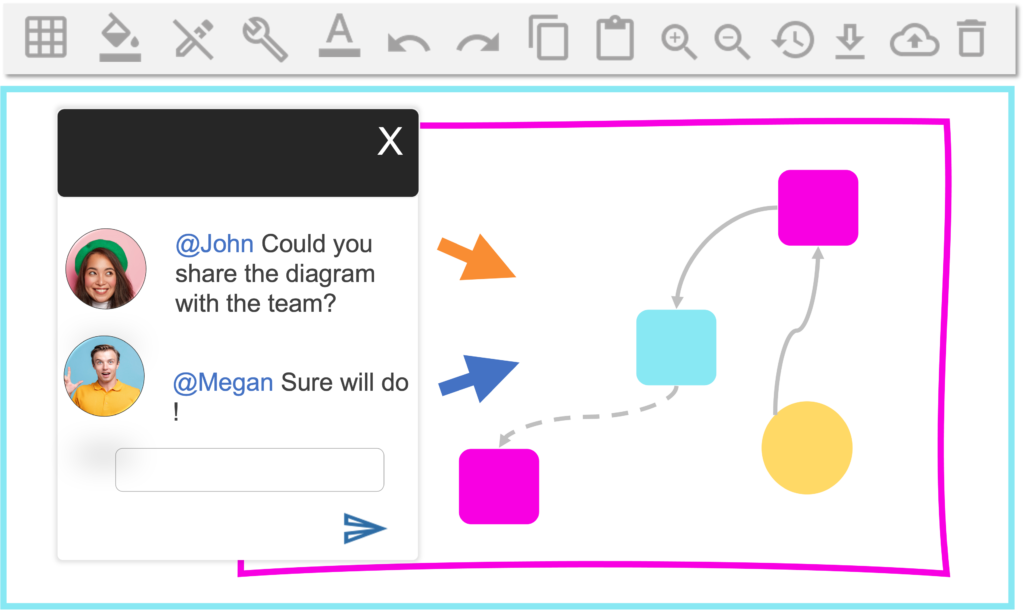 Access all services in a window with a single click.
Holori keeps you covered from design to deployment with its all-in-one software. With its precise and dynamic diagrams you can analyze and visualize all your projects at the same time. Embedding live monitoring capabilities, you can monitor and track your entire infrastructure at a glance.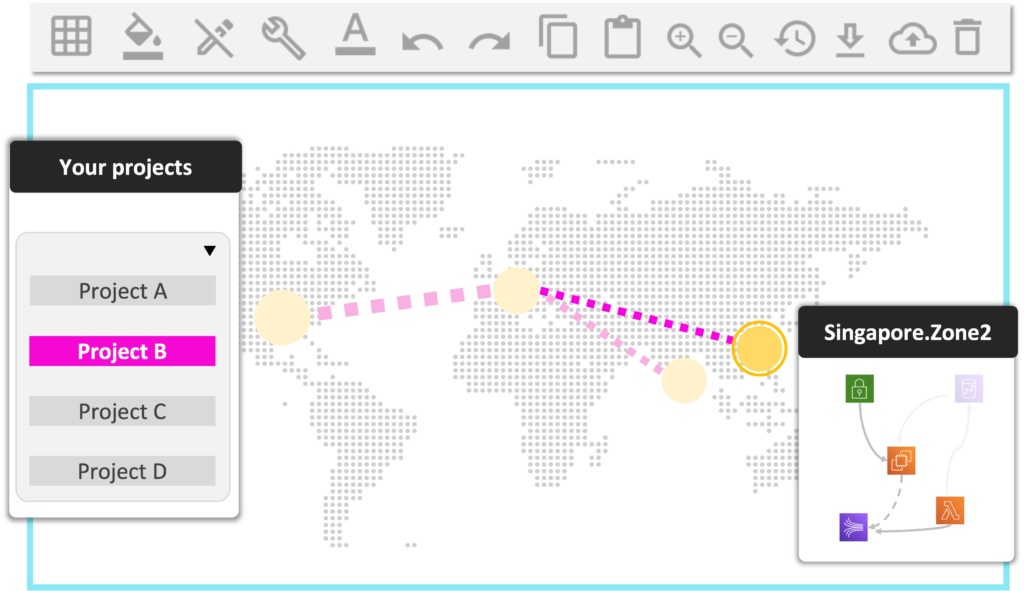 Ready to get started with Holori ?