Do you like Cloudcraft but it does not support building your Azure, GCP, or any other cloud diagrams?  
Switch to Holori and start diagramming now!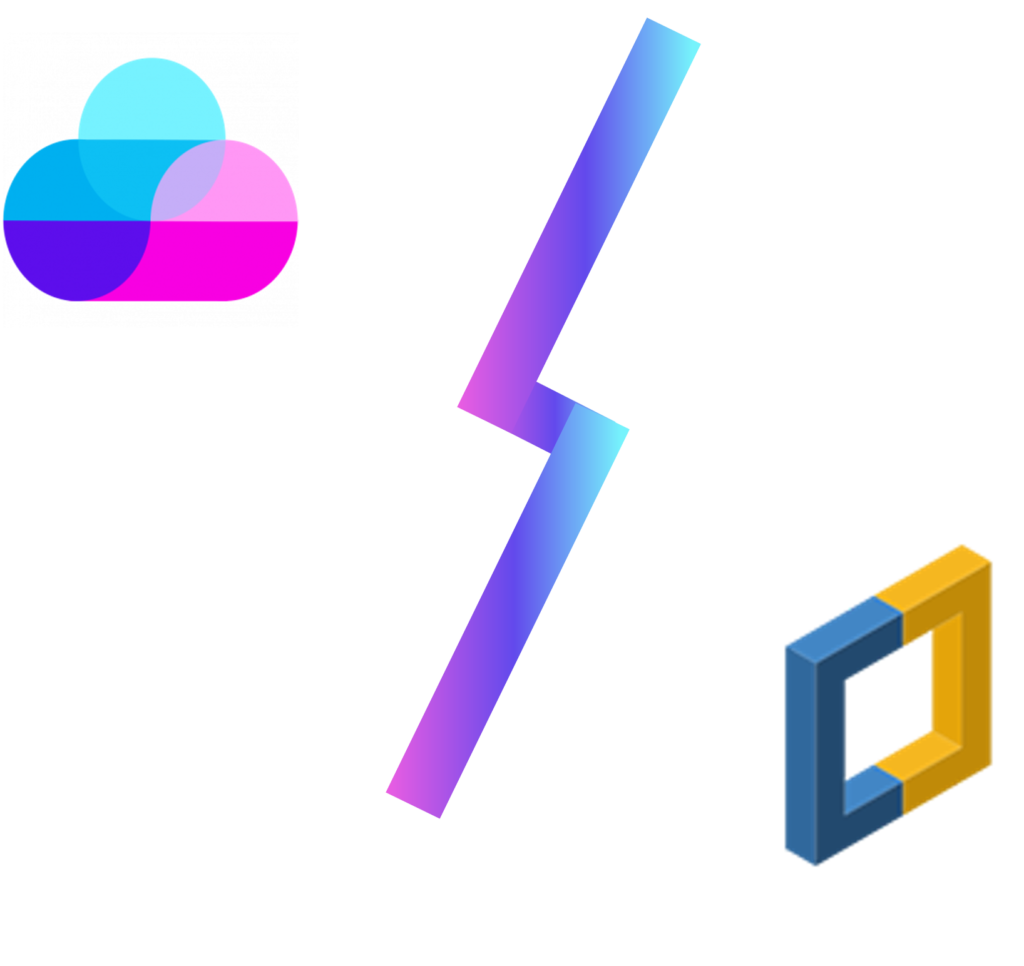 Holori is dedicated to the Cloud industry. We make sure that every Cloud Architect, Dev and DevOps have the right tools to perform their jobs while saving their time, energy and money.
Rather than a simple drawing tool, we offer a real cloud management infrastructure software. From a simple architecture diagram, Holori makes your infrastructure live by provisioning the infrastructure with Terraform code or by connecting to your cloud provider console instead of making it manually.
Cloudcraft vs Holori feature comparison
7 Reasons to choose Holori as an alternative to Cloudcraft
With Cloudcraft you can work only on a single cloud platform which is AWS. With Holori you can work with multiple cloud providers such as AWS, Azure, GCP to OVH cloud etc.
With Holori you can estimate the cost for all major cloud providers whereas Cloudcraft only determines the cost for Amazon Web Services.
For the same product, there could be huge price differences amongst cloud providers. Cloudcraft does not provide a price comparison within AWS or between multiple providers. In Holori's cloud calculator, you may compare over 50,000 cloud provider options.
Cloudcraft can import the infrastructure through the console but if you modify something on the diagram it won't make any changes to your infrastructure. Holori on the other hand can reflect the changes you perform in the diagram in your real infrastructure. 
Holori charges half the price of Cloudcraft for its services. Furthermore, Cloudcraft only works with AWS, but Holori works with a variety of cloud providers, including GCP, Azure, AWS, OVH, and others.
Cloudcraft free version has relatively restricted cloud drawing blocks. As a result, users are struggling with limited area while diagramming. Holori provides its users with limitless room in the free edition, in order to make your experience as easy as a cakewalk.
We can't give specific attributes to components in Cloudcraft. Holori gives an extensive list of attributes that enables you to improve the documentation or reflect the real requirements of your infrastructure. Cloudcraft offers a very limited number of attributes to the components.
Cloudcraft is a visual designing software. It can only be used to create and visualize AWS diagrams. It provides its consumers with some blueprints, 3D visualization and cost forecast. Overall, its services are restricted to AWS.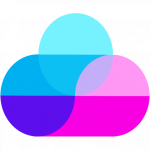 Holori is an end-to-end multi cloud management platform. With our cloud architecture diagram software, one can build awesome multi cloud diagrams, visualize cloud infrastructure, estimate its costs, and deploy it. 
Holori unique offering (Holori vs Cloudcraft)
Cloudcraft does not allow you to compare the costs of cloud services. However, it is possible with Holori. You can reduce your cloud spending while increasing your return on investment. Our Algorithm guides you to choose the most appropriate cloud infrastructure according to your need and your budget. To accomplish so, we use our cloud calculator to compare over 50,000 cloud products from all the major cloud providers such as AWS, Azure, GCP, Oracle, Alibaba Cloud, etc. We take into account and compare all of them so that you receive the best deal and best price.
There may be large price differences for the same services at different locations among cloud providers or within the same cloud provider. Thus, we compare and identify the best price based on your requirements to reduce your cloud expenditure and maximize your results.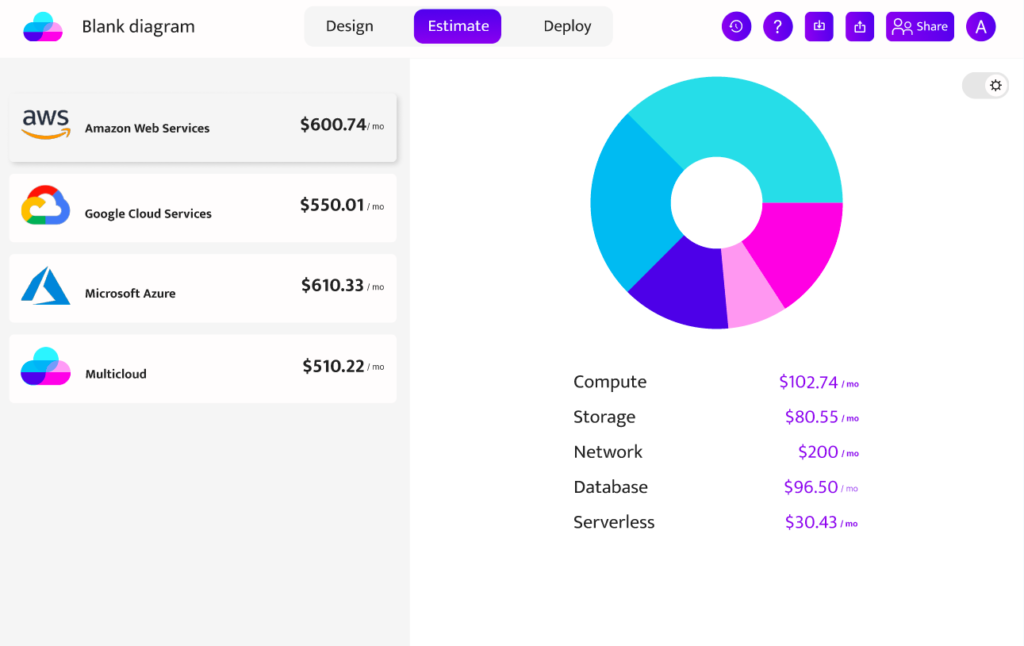 Lazy to start everything from scratch?
With Holori you can import a terraform and we will turn it into a visual and editable diagram. By connecting to your cloud provider console we can also import your existing infrastructure and make it visually accessible and understandable. This will save you a lot of time !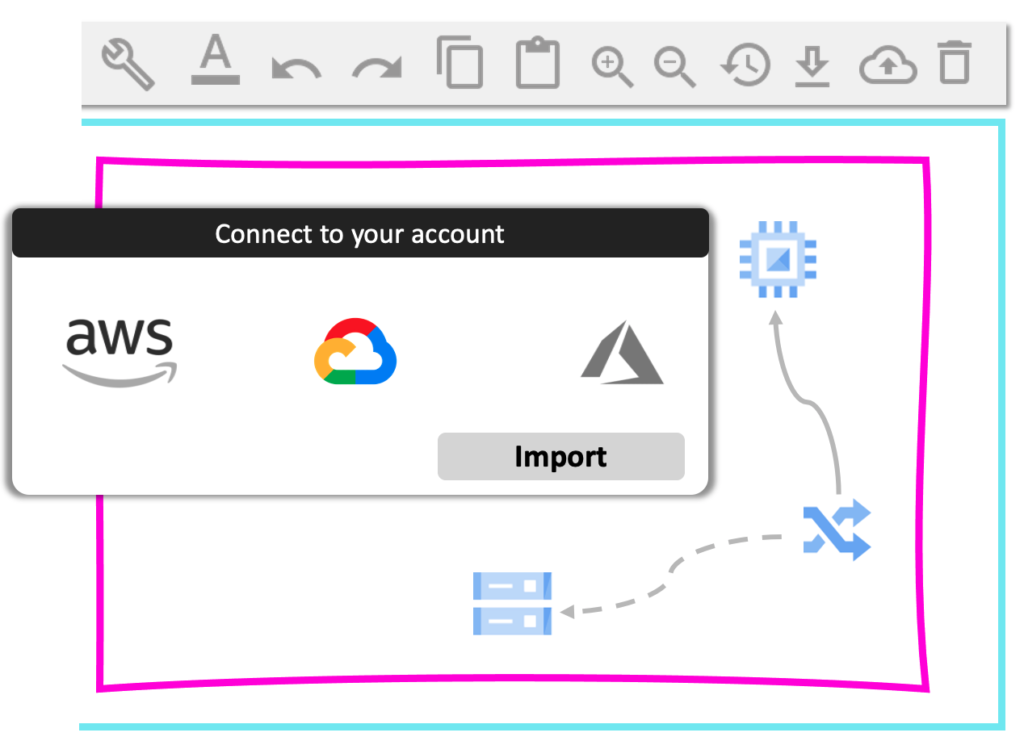 Why go for a certification?
Do you wish to pursue a certification and commit a significant amount of time to learn in this age of Artificial Intelligence? There is no need for AWS, GCP, or Azure certification while developing cloud architecture using Holori. Using our smart solution, even a beginner can design an effective cloud model.
Our diagramming tool can help you learn faster: For example, if you create an AWS architecture diagram, we can instantly transform it to an Azure or GCP diagram.
If you are unfamiliar with any cloud provider, you can build a generic diagram and Holori software will automatically convert it into an AWS/ Azure/ GCP diagram. In this manner, certification becomes unnecessary, and you accelerate your learning curve to master new technology.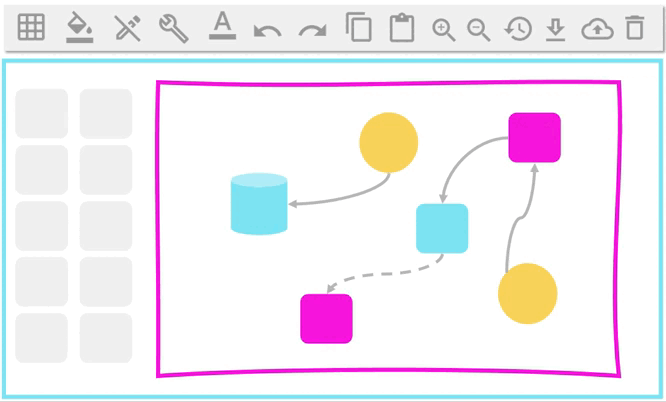 Access all services in a single window with a single click.
Cloudcraft can only connect to AWS whereas Holori allows you to connect to different cloud platforms. You can import or design/build projects using the AWS, Azure, and GCP icons. You can customize each and every component and make your own Infrastructure.  Most importantly it will give you a glimpse of how your solution will look and of the cost associated with your Infrastructure. So at a glance, you can monitor and track your entire infrastructure.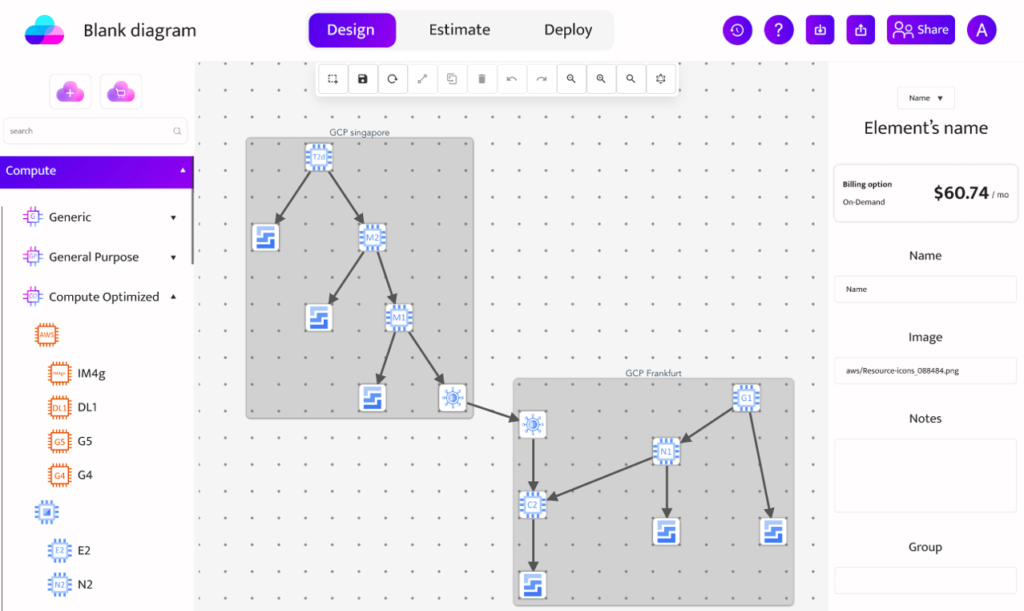 With Holori you can collaborate and share cloud diagrams. We provide you the option to discuss the progress of your cloud diagram with your team and complete the job quickly. It improves decision-making speed and benefits the entire team.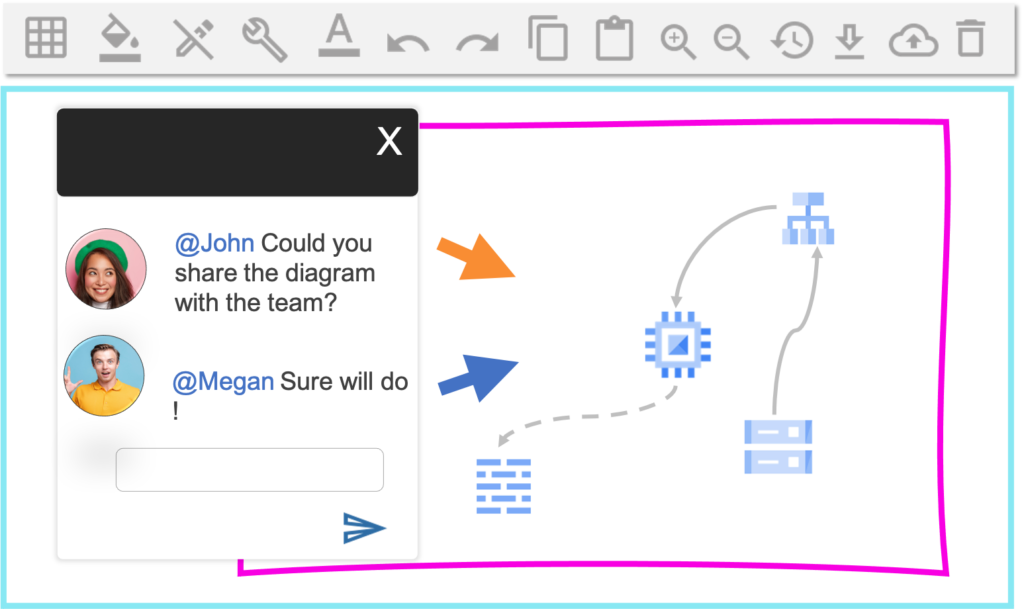 From diagrams to code to infrastructure. Why writing manually code and spending hours in Terraform documentation when you can think, design and then finally deploy seamlessly.
Cloudcraft vs Holori : With Cloudcraft there is no possibility to fill terraform attributes.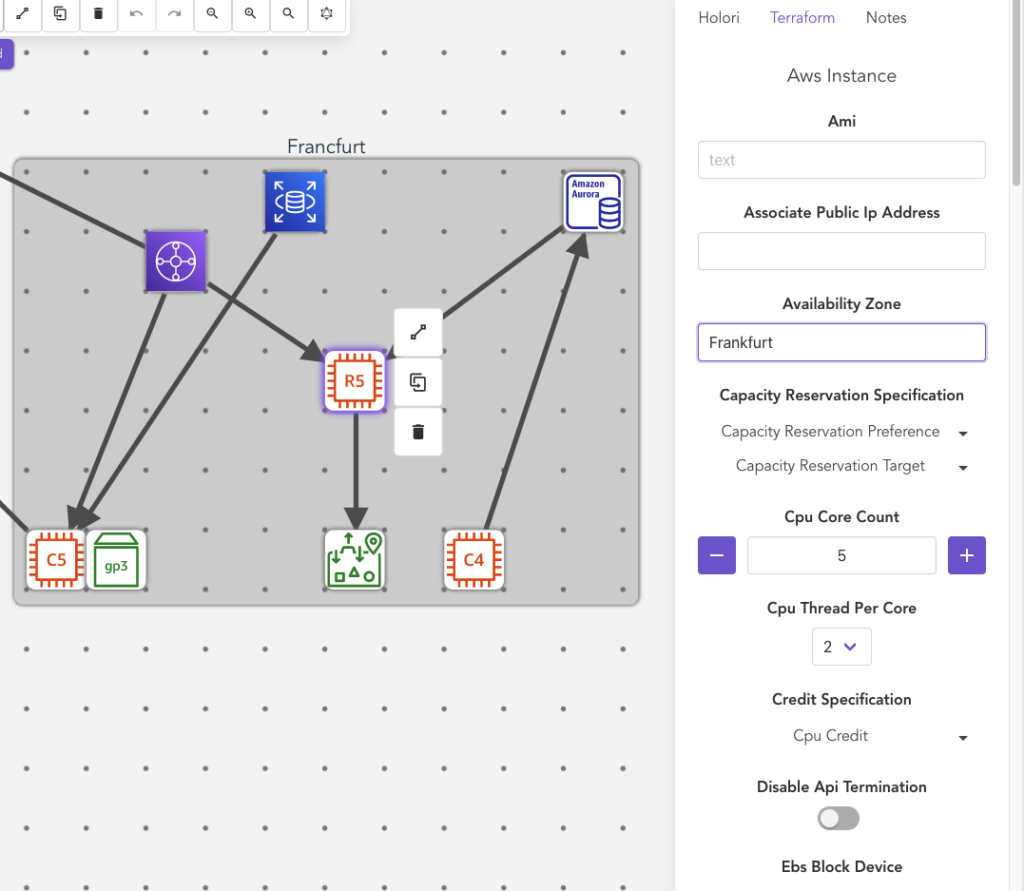 Ready to get started with Holori ?